This is it: your first big tour. The moment you've dreamed of since you started making music is finally here. You've got an awesome show together and you're ready to hit the road, perform in a different city every night, make valuable industry connections, and gain lots of loyal new fans from all over.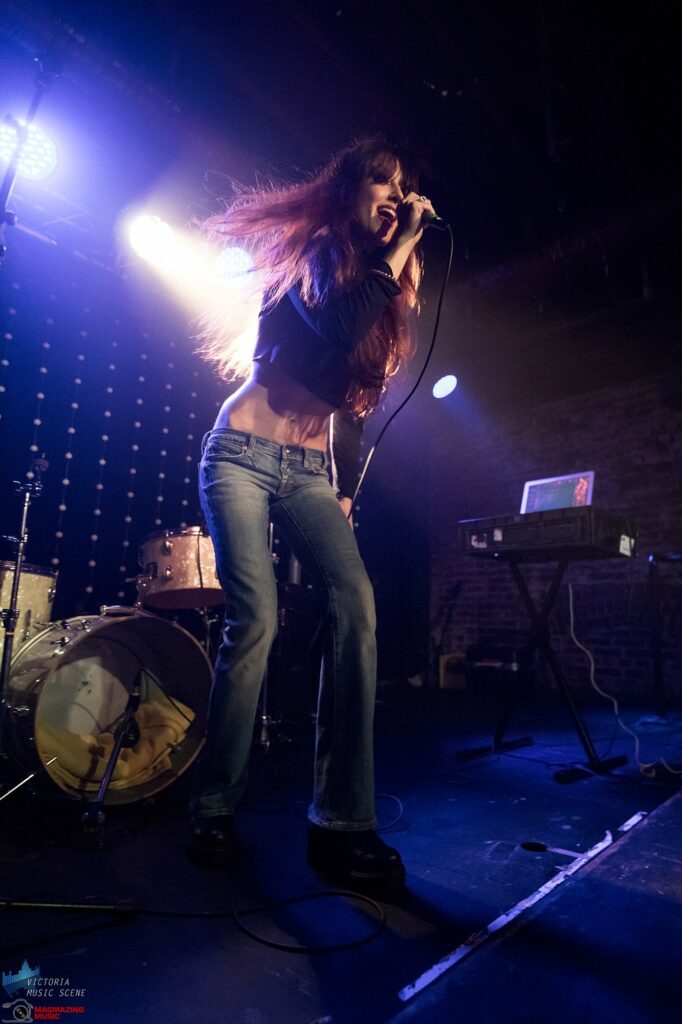 But where to start? For emerging artists, the endless tour planning checklist can feel overwhelming. There's budgeting, travel and accommodations, booking venues and finding similar musicians to play with, promoting shows in faraway cities… and if you don't have a team yet, you'll probably be doing it all yourself.
Thankfully, with the help of useful social media tools and analytics, planning a tour is more accessible than ever for independent artists. I'm electronic alt pop singer-songwriter Maryze and I just toured my debut album 8 across Canada. Organizing it DIY-style with my indie label Hot Tramp, I learned some valuable lessons along the way that I want to share so you can have a smooth, stress-free journey. It's a massive undertaking, and you're going to want all the help you can get from your community, but if you stay on top of a few key elements and get started early, your first big tour is not as far off as it might seem.
Mapping out your tour
First things first: where are you touring? (Or perhaps, more importantly, where does it make sense for you to tour, at this stage of your career?) If you've just released your first album, it's natural to want to perform it in as many cities as possible, but an entire North American trip spanning multiple months might not be the right fit (yet).
When you're planning your first tour beyond your usual hometown circuit, being realistic is key. Hitting up all those legendary U.S. cities sounds like a dream in theory, but do you really have a fanbase in the Midwest? Will anyone turn up in Atlanta? Based on my experience, it's better to plan a smart tour than an overly ambitious one. Especially if you're the driver, you risk burning yourself out driving long days to get to shows that aren't worth the stop. Yes, the goal is for you to expand your audience, but performing to an empty room won't do much to advance your career. On top of that, if you aren't used to playing every night for weeks on end, it might be better to start small and build your way up to longer, more intensive trips.
So, how can you figure out your most strategic tour dates?
These days, social media analytics and the Spotify for Artists app are some of the most valuable tools for musicians to learn about their listenership and their location and interests. Exploring and harnessing this information is a great first step in understanding where to tour – and who to potentially tour with.
In the Spotify for Artists "Audience" section, you'll find specific data about how people are discovering your music via the "Source of streams" chart. It's important to note if fans are mostly searching for your songs and listening through your profile, or if your biggest source of streams are editorial playlists. Though the latter is great for amassing tons of plays, it won't tell you much about where your fans are based; many editorial playlist listeners are just passive listeners who already follow the playlist, without necessarily following you.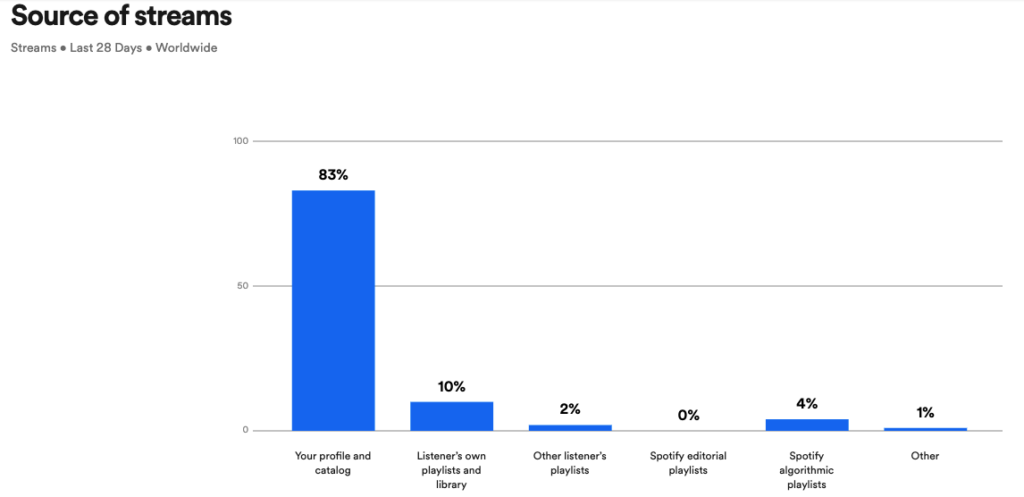 It's the listeners who actually save your tracks and add them to their own personal playlists that you want to look out for – they represent much more accurate and specific data. If a significant portion of your audience comes from categories like "Your profile and catalog" and "Listener's own playlists and library", you're on the right track. Taking a look at listener demographics (top cities, top countries, age, gender, and artists they also like) can help curate logical tour dates.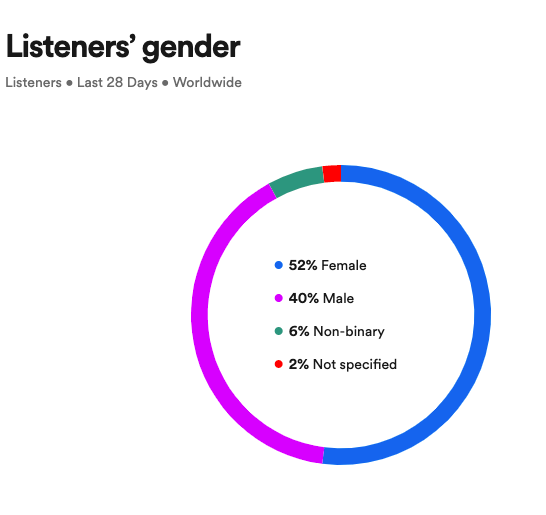 Social media platforms like Instagram and TikTok also provide similar analytics. I find TikTok is currently the biggest player in the game, since its algorithm allows your art to be seen and heard by people all over the world, rather than only by those who already follow you. Being active on TikTok before heading off on tour is a great way to connect with fans and musicians in new places, whether it's through posting regular content, engaging with other creators, or going live. Every show I play nowadays, someone comes up to say they found me on TikTok!
Beyond streaming data and social media insights, you probably already have a pretty good idea of where you'll draw a crowd. Where have you performed, lived, traveled, or gone to school before? Where do your friends and family live? Where do you have similar-sounding artist friends that can help you organize a show? Don't be afraid to reach out and ask for recommendations! Planning your first big tour is usually a community effort – which leads us to the next task on your checklist.
Finding other artists to play with
All the tools mentioned above can also come in handy as you search for artists to link up with on tour, preferably ones who share a similar(ish) vibe so that you can put together a cohesive show (don't stress about this too much – musical genres are increasingly fluid, or, some would argue, dead).
The Spotify for Artists app provides data about other musicians your listeners like, which can guide you in curating a compatible lineup that will appeal to your audience. It can also be worth pitching a larger artist that Spotify slots you with, to see if they're looking for an opener on their tour. This is another strong way to start widening your fanbase and reach – without the added pressure of headlining and bringing in a crowd on your own, in unfamiliar territory.
One resource that never fails is your own connections, whether they're IRL or online. Every relationship matters in the music industry, no matter how big or seemingly small. Internet friends are valid in 2022, and it's incredible how many you can meet through online communities and social media. I keep a list in my phone of "TikTok Mutuals" who I've connected with, who make music that fits with mine, and are at a similar place in their careers. I make sure to note their current cities, and when the time comes to book tour dates in that area, they're the first I reach out to.
Knowing other musicians who are already located in a new city, who can recommend venues, promoters, and artists who might be a good fit, really expedites the process. You can ask them to help organize the event by reaching out to their established contacts, which gives you an in. They might even be able to offer you somewhere to stay along the way, and if you're working with a tight budget, you'll probably want to take them up on it. Don't forget to return the favour when they come through your town! This kind of DIY community approach has opened so many doors for me on tour. It allows you to make new friends and create connections with like-minded folks, which can lead to cool future opportunities and collaborations.
Travel and accomodations
Now that we know which cities and artists make sense for your tour, let's figure out how you're getting around and where you're staying!
If it's your first big tour, chances are you'll have to be quite mindful of travel and accommodation expenditures. Plan your tour dates logically, strategically, and geographically. Let's say, for example, you've found a strong listenership in a cluster of cities on both the West Coast and East Coast, but not many fans in between. Maybe start with major cities on one end, like Vancouver, Victoria, Seattle, Portland, and plan to rent a car for that leg of the journey. Then you can fly to the East Coast and do a similar circuit in Toronto, Montreal, Boston, New York. Don't feel like you need to fill out shows in between if no one is listening in Saskatchewan – splitting up your tour between two sides of the continent could save you a bunch of time and money. Remember there's no right or wrong way to plan a tour, as long as it makes sense for where you're at as an artist, and where your audience lives.
Can't afford hotels in every city? Time to call those Internet friends. Hit up your family, old high school and university friends – any couch is better than no couch! If you can afford to rent a room somewhere, even just for a night or two, I do recommend stopping at a hotel to refuel on sleep at some point. Even the most basic bed can feel luxurious when you've been crashing in a van or on the floor for a few weeks, and lack of proper rest can take a toll on both your physical and mental health. Later in the series, we'll go over some simple ways to prioritize your mind and body on tour – you can't really perform without them!
We're steadily chipping away at your tour checklist and almost getting to the fun stuff! There are a few last major steps before you can take off, like budgeting, booking venues and local promoters (the dreaded cold-email), preparing all your promo content and merch, and setting up industry meetings – we'll tackle those next time in part 2 of our Your First Big Tour series.
Written by Maryse Bernard
llustration by Yihong Guo