Music composer Evan MacDonald's work has been featured in over 25 films to date, as well as commercials for big names such as Dior, Google, Pepsi, the PGA Tour, and countless others. His music has been heard on every major television network, at world renowned film festivals (Cannes International Film Festival), and even international stadiums. It therefore comes as no surprise that SOCAN has recently named him as a "Composer to Watch For", as well as recognized his work with numerous awards from the SOCAN foundation featuring Canada's Top Audio Visual Composers.
He took the time to chat with RAC about the different sides to composing – from scoring a film to writing for music libraries – and how he got to where he is today.
RAC: Your passion for music started at a young age, but when (and how) did you realize that you wanted to pursue it as a career?
Evan: When I was 10, my uncle gave me a guitar and honestly the rest is history. I became obsessed with music as a kid, and by the time I was a teenager, I knew that's what I wanted to pursue when I was older. The only thing I wasn't sure about was exactly what I'd be doing. For quite some time, I was hoping to be the 6th member of Aerosmith [laughs]. Although that hasn't happened yet, I'm pretty happy with the choices I've made so far [laughs].
RAC: Your journey initially started as a guitar player; how did you discover your interest in composition?
Evan: It was by accident. I was doing my undergrad in Jazz Performance at McGill and I wanted to book my own shows as a band leader, so I figured I'd write some music for these shows. It was then that a lot of people started telling me that my music sounded like film music. At the time, I was a bit offended because my intentions were to write jazz music, but luckily that opened Pandora's box and from there I started being more cognizant of film music. I then took a film scoring class as an elective through Berklee Online while I was still a student at McGill and fell in love. I later applied to Berklee for a Master's degree in Film Scoring – pretty much thinking never in a million years that I'd get in – but by chance, I ended up getting in and that really changed my life.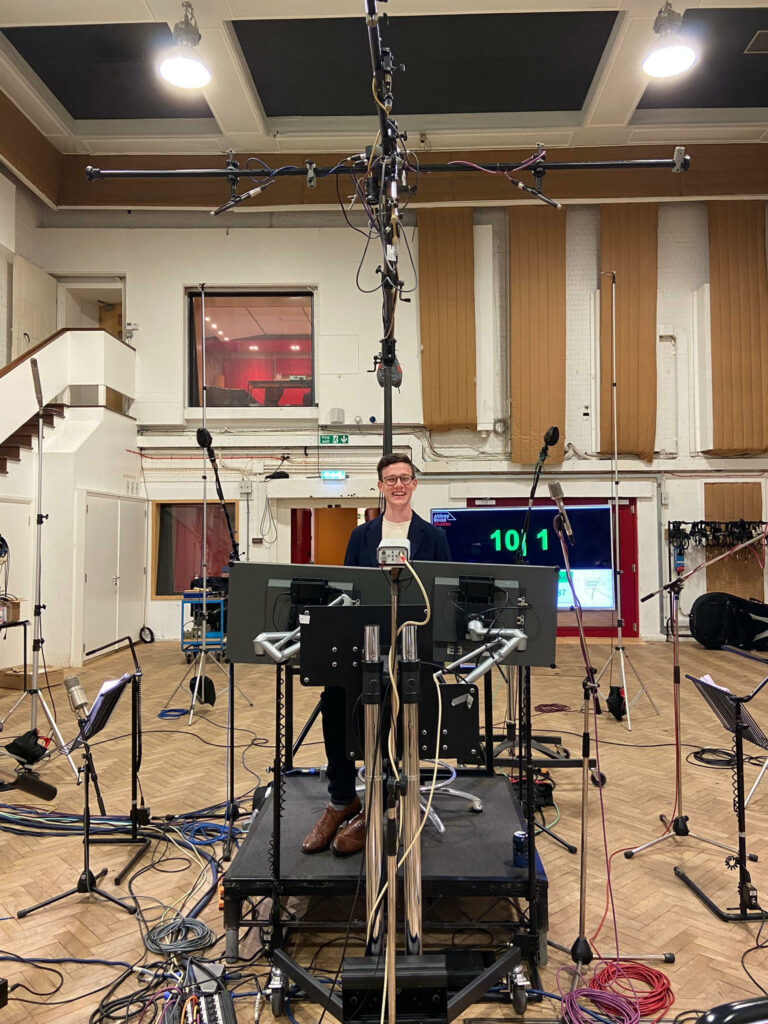 RAC: What was one of the most important things you learned during your studies that you feel helped propel your career?
Evan: I would honestly say having the opportunity to make mistakes was one of the most important things for me as a student. Of course, everyone wants to succeed and do well at school, but looking back at my experience as a student, the most important and valuable lessons were when I really messed up.
For example, I once had a recording session with an orchestra and it didn't go as well as I wanted to. I was of course really crushed in that moment, but having the experience to learn from that situation and to understand what went wrong was huge. This not only helped me gain confidence, but it also really helped sharpen my tools so that when I was out of school, I would never make a mistake like that again.
RAC: What was your first job as a composer, and how did that opportunity come about?
Evan: When I graduated, I sent about 100 emails a day for a month to pretty much anyone that was a filmmaker. I just wanted someone to believe in me and give me the opportunity to score their film. After a few weeks, someone wrote back and asked me if I would score their short film. I didn't get paid anything for this project; instead I convinced the director to hire an orchestra and we recorded the score with 20 string players. That was an amazing experience and that opened up a lot of doors for me and led to a lot of really amazing projects.
RAC: In addition to composing for film and TV projects, you also work with music libraries*. How do you balance both?
*Companies that represent a large catalogue of music, typically for the purpose of sync licensing, which is required whenever music is used within an audiovisual production (i.e. film, TV, video game, etc.)
Evan: I once had an amazing teacher that said; "If I can give you the single greatest piece of advice, it would be to write music every single day". This really was one of the best pieces of advice I've ever received, and library music has been that anchor that pushes me to write every day. Especially early on in my career, whenever I'd be done working on a film and the next one was only starting in a few weeks or even months, I would take the initiative to just write music, and next thing I knew, I started developing a catalog. To me, library music has been that push to "stay in shape" and to just keep writing in my down time. It also allows me to grow as a composer because, let's say I want to write in a style that I'm not super comfortable in, I can work on that for a bit while I'm not necessarily on a deadline for a film or show.
Usually when I work on library music, I'm really only working on that and I try not to juggle multiple projects at the same time.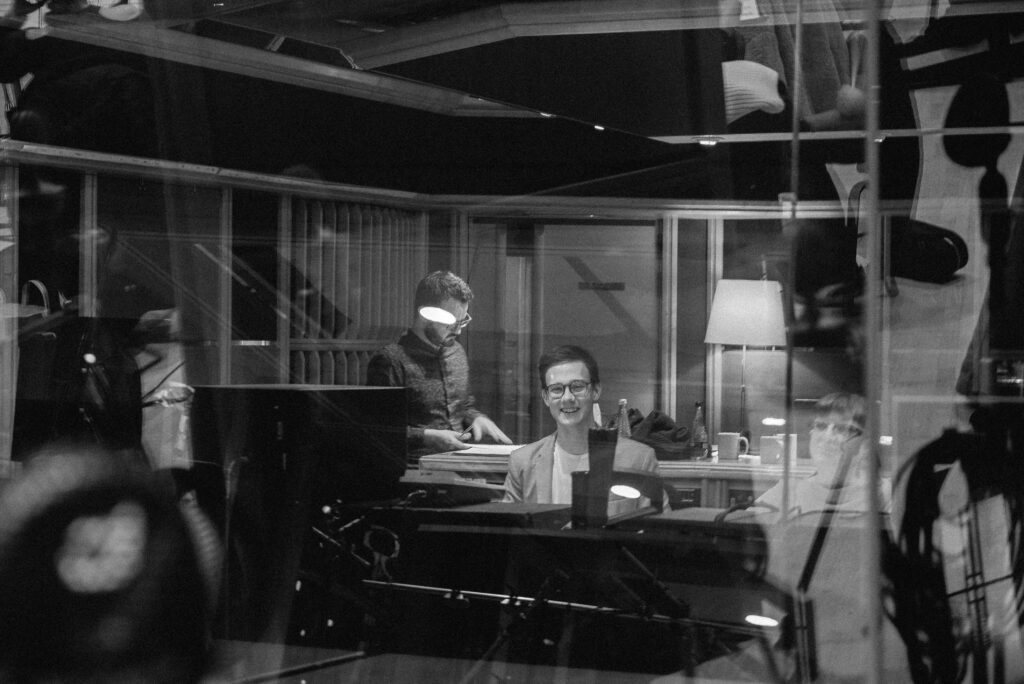 RAC: Can you give us a brief overview of your process when working with music libraries?
Evan: Typically when I'm working on library music, the goal is pretty straightforward but also extremely daunting – write great music. In my case, I prefer spending a bit of extra time really perfecting this music, so I'll compose the piece first and then from there I'll pitch it to a library to see if they'd be interested in it.
Most of the time, I typically work alone and do all the writing and production aspects myself. When it calls for it, I might hire musicians to make a song sound better. If I'm really busy or if there is a big recording session involved, I'll work with a team of people which may include an engineer (recording, mixing, and/or mastering), an assistant to help with the prep for the recording session, an orchestrator, a copyist, conductor, music contractor, and of course, all the wonderful musicians.
As for the creative process, I usually start by making a playlist of a bunch of music that's been influencing me recently. This playlist acts as a guide for what kind of music I'm looking to write. From there, I usually start at the piano and then see where the song may take me.
RAC: Is your process different when working on a specific film/TV project?
Evan: The process is fairly different. When I'm working on a film/TV project, I am usually working very closely with the director who helps guide me with shaping the score.
When I'm working on library music, I'm typically on my own at the beginning so the canvas is a lot more blank. Once I have some material together, that's when I'll pitch it to a library and then feedback will come in and I'll start working on revisions and rewrites.
RAC: You mentioned that you do a lot of the production aspects yourself when working on library music. Were those additional skills self-taught?
Evan: I learned most of my music production skills while I was a student at Berklee and since then I resort to YouTube whenever I'm looking for new ideas.
As for instruments, my main instrument is the guitar and I studied that at McGill. I did take some basic piano lessons, which is enough for me to get by, but I wouldn't necessarily call myself a piano player, haha.
RAC: In your opinion, what is the key to success when working for a music library?
Evan: I think the key to success is to always go the extra mile to make whatever you're working on perfect. Quality over quantity. It's hard to know when you should stop or when something is good enough, but usually I call it quits when I know I can't possibly make whatever I'm working on any better.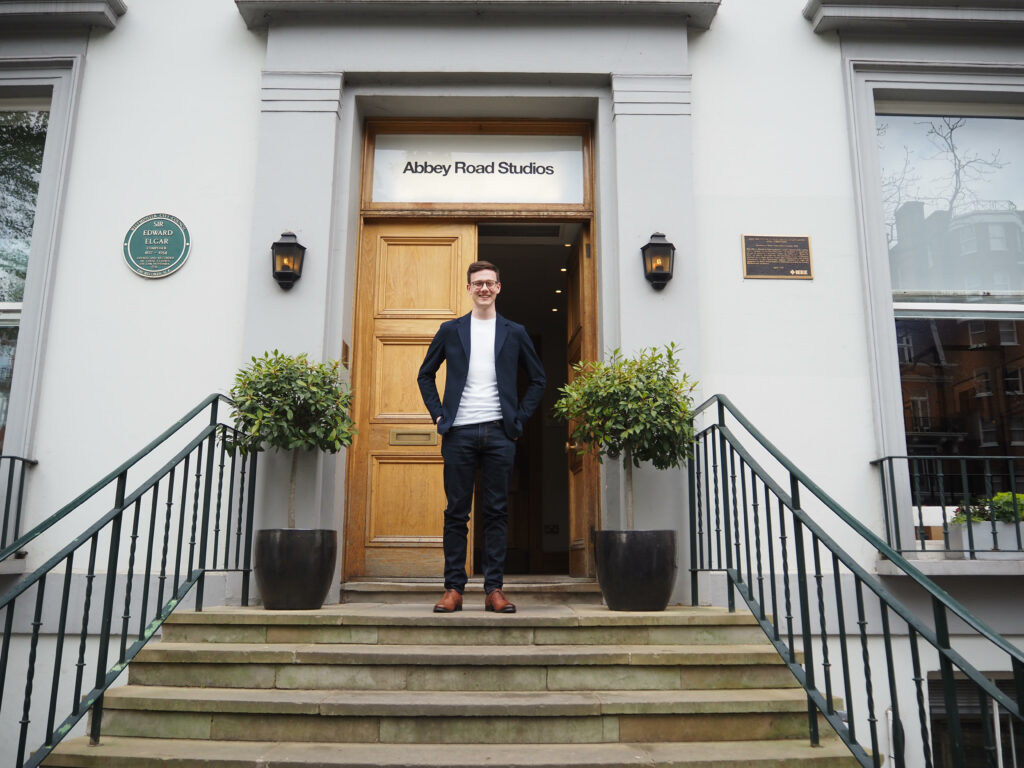 RAC: How do you meet the key team members that you are most often working with?
Evan: I've met pretty much everyone I work with through personal connections, whether we first met at school or through a friend. I'll also reach out to people (mostly musicians) whose work I may have heard and ask them if they'd be interested in working together.
They're from all over the world and most of the time the work can be done remotely. Sometimes we need to physically be in the same place, but a lot of stuff can be done virtually. It's a pretty small industry and getting to know people on an international level tends to be fairly easy, especially nowadays.
RAC: What are your future aspirations in this field and beyond?
Evan: I've been super lucky so far and have had some amazing opportunities. I just want to keep growing as a composer and hopefully keep working on amazing projects like the ones I've been lucky enough to work on so far.
RAC: Any last advice you'd like to share with our students?
Evan: Don't be scared to make mistakes. School is about learning and growth. Try to always strive for perfection but when something doesn't turn out the way you were hoping, learn from it and grow from it.
I've found that, out of everyone I went to school with, the ones who are really succeeding in their fields aren't necessarily the ones who were at the top of the class, it's usually the ones who were the most persistent and who had the highest ambitions.
—Final notes—
From Aerosmith-wanna-be to trained jazz musician to successful composer, Evan's journey demonstrates one of the many different paths that can turn your passion into a meaningful career. What was fundamental to his growth – and is applicable to any field in music – was how he capitalized on his time in school by building his network, learning from his mistakes, and picking up complementary skills on the side. That, along with an unwavering determination, humility, and a strong work ethic, is a solid recipe for a long and fruitful career.
Text written by Andria Piperni
lllustration by Yihong Guo