For Honey and Max Pazhutan, aka v H+ and M P, there is freedom in precision. The duo marry a mathematical and logical approach to composition with an unabashed creativity that knows virtually no limits. Projects are not simply a means of expression; they are an opportunity to learn and explore continuously.
The RAC graduates, educators, researchers, composers, and all-around musical powerhouses took some time to talk with us about their artistic philosophies, creative methods, and to share some musings on the power of art and its impact on humanity.
One piece of gear you can't live without:
v H+ : My brain
M P : I'm not dependent on any piece of gear
If I weren't an audio engineer/musician, I would be…:
v H+ : A Genetics Engineer
M P : A watchmaker
Your zodiac signs?
v H+ : Aquarius
M P : Sagittarius
Favourite "I'm in the studio" meal?
v H+ : There is no food in the studio … but well, anything with mushrooms
M P : Mocha
Favorite composer?
Both v H+ and M P : John Cage
v H+ : Meredith Monk / Miles Davis / Terry Riley / Laurie Spiegel / Delia Derbyshire
M P : Iannis Xenakis / Pierre Boulez / John Coltrane / Karl Stockhausen / J.S.Bach
A key element when it comes to collaborating?
v H+ : Interaction, Chemistry
M P : Shared goal, Harmony
RAC: Can you share a little bit about your early influences that inspired you to work in music and production?
v H+ : My first fave toy as a child was a transistor FM/AM radio, which allowed me to explore and compose music for frequency modulation synthesis and transistor organs. Later, when I was studying contemporary composition, being familiar with the avant-garde composer John Cage and his philosophy shed light on my interests, which included exploring the artistic possibilities of the intersection between music and electronics. Noise and creating music material from various noise colors is also something that is constant in my activities.
Classical singing was the main motivation for me to start my musical studies. Later I discovered jazz vocals, and from there I arrived at modern and contemporary vocal techniques.
M P : The first thing I remember in my life was making music in my head. I later decided to learn how to bring those pieces to life. Nothing affected me more than music as a child.
I don't remember when I wasn't a musician. I worked to gain more information and techniques later, but the first thing I remember in my life was thinking "in music" and about music all the time.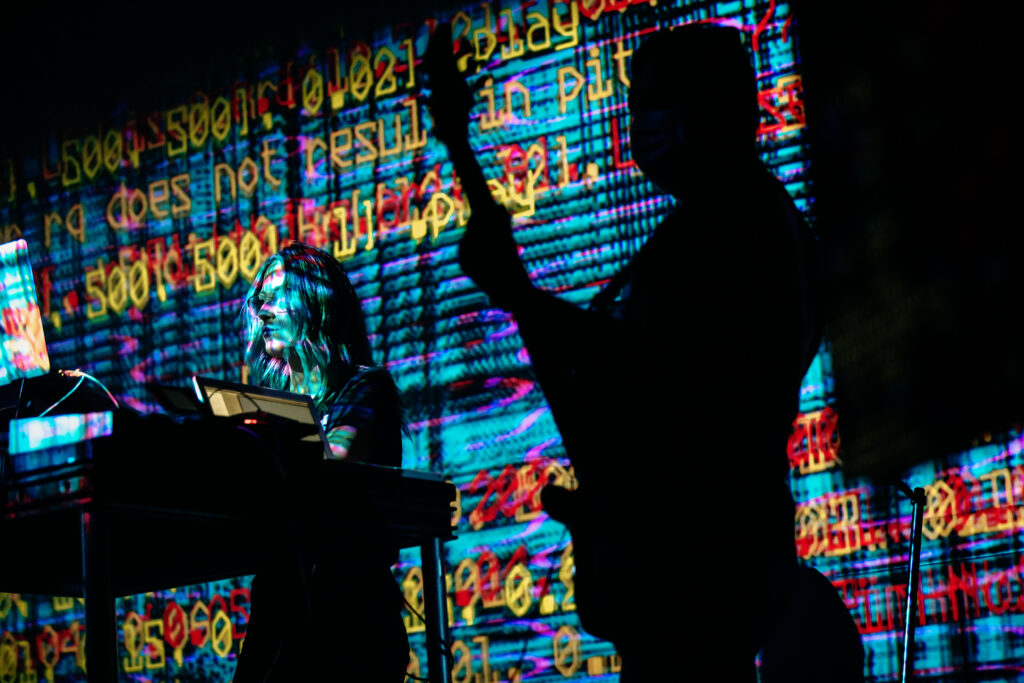 RAC: What made you become interested in electronic music as the primary genre you work in? What is it about this genre that you find makes it the best medium to express your message or philosophy?
v H+ : First I have to say that having no genre is our primary genre!
And second, Electronic Music is not a "genre", it is a set of diverse approaches to creating music that electronic technology has made possible.
M P and I are constantly talking about the four reasons for electronic music:
First, the material from which "electronic music" is made is extremely interesting and limitless.
Second, the forms that are available to present your work and deliver your art are infinite.
Third, the feeling of adding something to the canon of electronic music is fascinating.
Finally, the process that any artist goes through when they start with a simple waveform and accomplish a musical phenomenon is very engaging: no electronic musician remains the same artist before starting and after finishing a work of art. You learn so many things with each work, and you gain experiences that aren't possible without the creation process.
Computers play a significant role in our creative workflow, and some of our works fall in the field of "Computer Music" rather than "Electronic Music". To make it clear, "computer music" is a vast field of study that includes synthesis, DSP, and Psychoacoustics. It is the application of computation in sound art, and we are currently witnessing a very interesting moment it's having.
M P : Electronic music is based on the highest degree of freedom in creation and understanding. Improvisation and fixed composition are both equally valued. A single wave generated by an electronic system can be thought of as a musical composition, and it is also possible to interpret large-scale compositions by electronic means.
That being said, it is also good to mention that v H+ and I are concerned about our carbon footprint. Electronic hardware is inherently not eco-friendly, from mining to production to disposal and recycling; they pollute every step of the way.
Today, as we stream music easily, we don't enjoy thinking about what environmental impact it might have; convenience is the factor most consider first. But the fact that all stages of music streaming require energy is so concerning.
RAC: You've performed at benefit concerts for the World Health Organization several times and have expressed that your work is focused on humanity and the hope for a better future. Would you say that you've been successful in conveying these messages? Can you explain a little about how they manifest in your work?
v H+ : The success of such activities as performing for the benefit of W.H.O. on World Tuberculosis day is dependent on consistency of repetition. If each year more artists helped science and research centers such as W.H.O., these artists would take part in helping solve serious world problems, rather than just entertaining.
During this kind of an event, you know that you're not alone… For example, the World Health Organization online benefit concert consisted of 24 composers. Although the composers and performers didn't know each other, their works were in the same spirit. And every year, many people look forward to "To Be Continued".
Whenever I see something being done for human beings, I like to step up for humanity and volunteer my art to that.
M P : We still have a long way to go. But when you draw a picture of something, you actually open it to becoming a discourse. Risks from computation power, AI, and technology are always our swords of Damocles. Catastrophic pandemics are not impossible. Climate change has already changed the lives of many human beings on our planet. But we are musicians, so like the "Trouvères", we also include our concerns and hopes in our sonic structures!
RAC: You both work on multiple projects under different monikers. Would you say that each has a distinct sound or is there an overarching theme to your work as a whole?
v H+ : In "Pazhutan Ateliers", our small company, we have different projects. These are subsets of our artistic activities. In general, each "Project-based" subset has clear goals, milestones, and deliverables, and sometimes even a defined start and end date. For each project, our creation, performance, and production ways and methods are different. These names are to simplify rather than mystify what we do.
Some of our projects such as albums and EPs from Twarc Pyroelectric, and The Quark Model, are available for sale on platforms.
The other projects are more suitable for live performance, or doing an "installation" in an interdisciplinary venue.
When we use computer coding software, iPods, phones, game consoles, and our own DIY systems, we call ourselves Cybernetic Ensemble or Cy-Ens!

There are times when we take compositions from great composers such as Stockhausen, Messiaen, and Boulez, and interpret them using various computational systems. These are the works that fall under sin(thesis) moniker. sin(thesis) proves that the advanced structural and theoretical considerations of art music give highly precise material for the logical discipline of computer music.
M P : With a different name, an artist can explore different methods of creation, and enjoy delivering art in diverse ways.
On top of that, a musical project's title is like an encapsulated object. When you hear a band's name, it means something to you, more than just a "name" for an orchestra or ensemble; it evokes concepts, ideas, moods, tastes, and goals.
When I write music for each of these projects, I am a different person. The interest to use specific instruments, and the joy of creating music in ways that are unique to that project, are the facts behind these titles. These monikers are not only names. They also catalog our musical output over the course of years.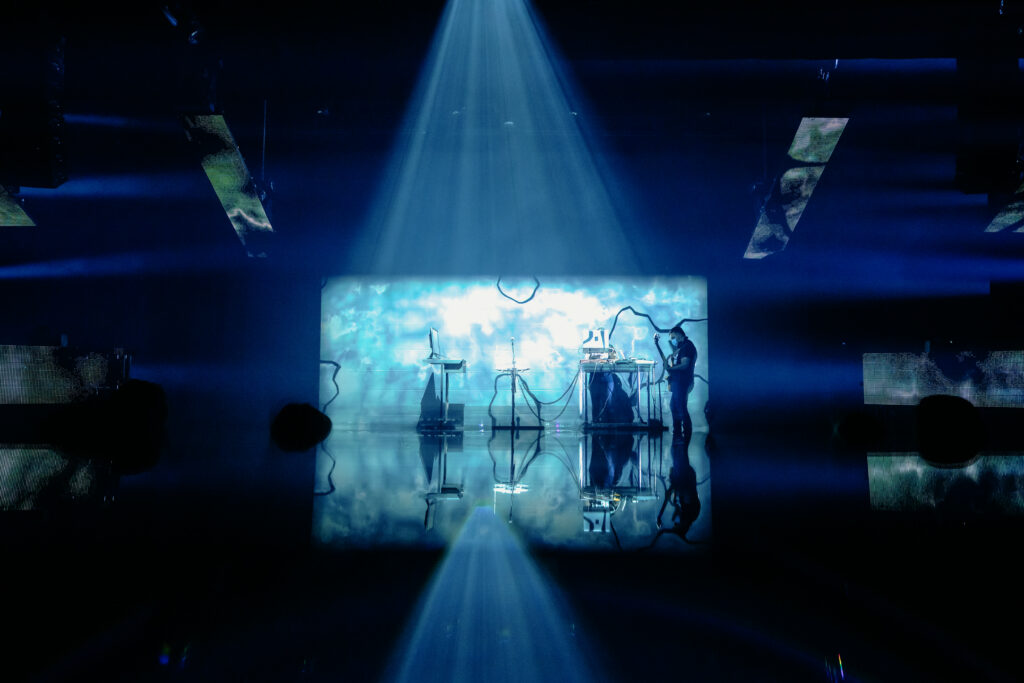 RAC: How would you describe your approach to creating music? Do you set out with specific goals in mind for a piece or do you go where the composition takes you?
v H+ : It is the concept that specifies the methods and tools. When you have a clear concept, then you need to find and develop your own way to deliver it. The meaning you try to express, the feelings, the moods, etc., are the reason you create audio or visuals.
M P : When we compose music, there are different decisions we have to make. For example, if you need to apply notes with frequencies that are not on the well-tempered keyboard, you have different choices: a double bass and/or a theremin. How do you know which one you want to choose? The double bass is a traditional acoustic instrument while the theremin is a space-age synthesizer that interacts with its player using its antennas! You can also use computer coding to create these notes. So, something should determine the reasons we choose certain instruments and playing techniques.
I am very much influenced by math. Mathematics is the study of Structure, Rhythm, and Patterns. Music is the art of Structure, Rhythm, and Patterns. Math is the knowledge of shapes, spaces, quantities, and changes.
One of my passions is constantly exploring the techniques of music composition, whether traditional, classical, or contemporary, and from every part of the world.
RAC: To follow up on the previous question, is your process collaborative from the start, or do you work individually and then blend your works together?
v H+ : We are both team-minded leaders. As a duo, we don't even notice how precisely we understand our individual roles. Like notes in a chord or two lines in a counterpoint, we interact with each other and accomplish each other's roles.
M P : We discuss various ideas in brainstorming sessions. Then we arrive at a couple of them that can enrich an already acceptable concept. When we find that we like to spend time on it and channel our creativity to reach the goals of that specific idea, then we stop overthinking and start to work. It is possible we lay down material that serves as a foundation and might be deleted later, but some of the first takes are the absolute best. Solos are especially awesome when you can nail it on the first take.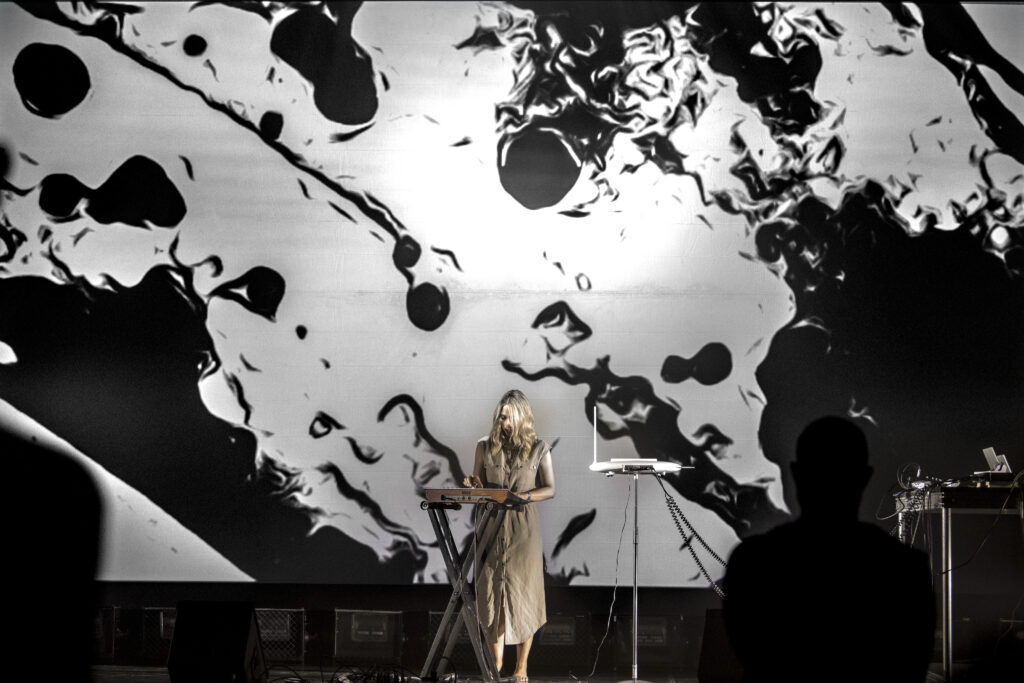 RAC: How do you start your creative process? Where do you find ideas and inspiration for your projects?
v H+ : Humans and humanity are major influences for me. I have composed music for brainwaves. I am working on and exploring new ways to interact with MIDI software.
Environment and space are also very important influences. We have a research project dedicated to the intersections of astronomy and music.
Technology is another important influence. Having access to computers, and connecting musical instruments to benefit from unlimited possibilities, tempts us to create something for them.
In our studio, there are wireless MIDI networks that you can use to easily play a synth app on an iPad using a weighted action 88-key keyboard located in the next room!
M P : There are two sides to our creative process. On the one hand, there's the technology, whether it be the modular synthesizers, or keyboards, or computer coding environments. These are extremely important to have a unique and leading-edge sound. And also a motivation to learn more, as it is necessary to be knowledgeable when it comes to using these technologies efficiently.

On the other hand, we have music theory, advanced harmony, and related studies. The musical output of the composers of the 20th century after Schoenberg (John Cage, Karlheinz Stockhausen, Iannis Xenakis, etc…) is a galaxy of influences. Schoenberg's practices are one of the reasons we have these systematic music technologies today.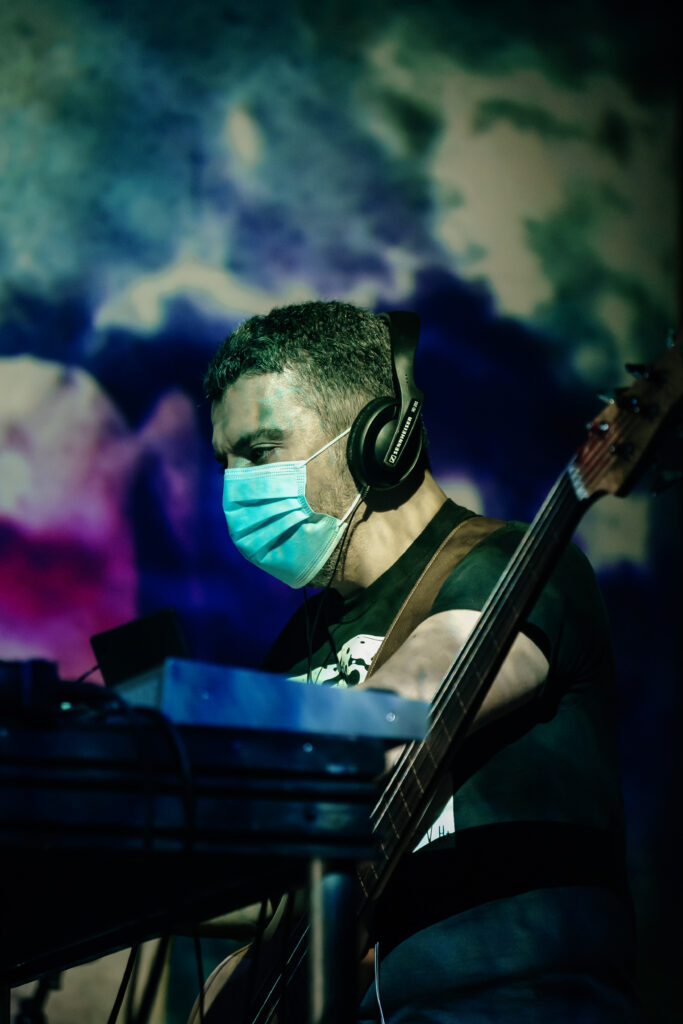 RAC: Aside from working with technology to create your music, do you play any other instruments? Can you tell us a little about your background as musicians?
v H+ : I sing. I am a mezzo-soprano. Studied classical singing at the conservatory. I play acoustic percussion as well.
M P : I play acoustic guitar, Alto recorder, and sometimes a melodica! I have a very friendly relationship with the acoustic piano, but I do not own one.
RAC: You both design and teach courses for Pazhutan Ateliers. What made you decide to share your musical knowledge in this way?
v H+ : Whenever you teach something, you not only share your knowledge with someone else, but you also learn that subject more deeply. This never stops. Each time I share what I have learned, I learn it even better.
Some artists are looking to add to their skill set by furthering their education in specific areas of contemporary music theory and/or media technology. They chose us because we help them every step of the way.
There are also artists who feel that if they had someone to coach them in both their artistic or technical sides, they could make their next track, album, etc., with more confidence. We are here for them, too.
M P : The system consists of different courses to study and explore music technology, contemporary sound art, and advanced music composition. While these courses are designed for composition students, they are also suitable for studio operators, instrumentalists, and even artists from other fields. We have students who are actually already completing advanced studies in music, but to do what they want, they need to master some areas that are not covered in the academic courses. That is where our courses can be a supplement for music students, audio engineers, and media artists.
Classes include: Electronic And Computer Music; Sound Art / Sound Installation Art; Music Appreciation; Jazz; Music Theory And Composition; Musique8 / The Children's Music Education System; additional specialized courses are also offered.
Find more information about the different courses offered here: https://www.pazhutan.com/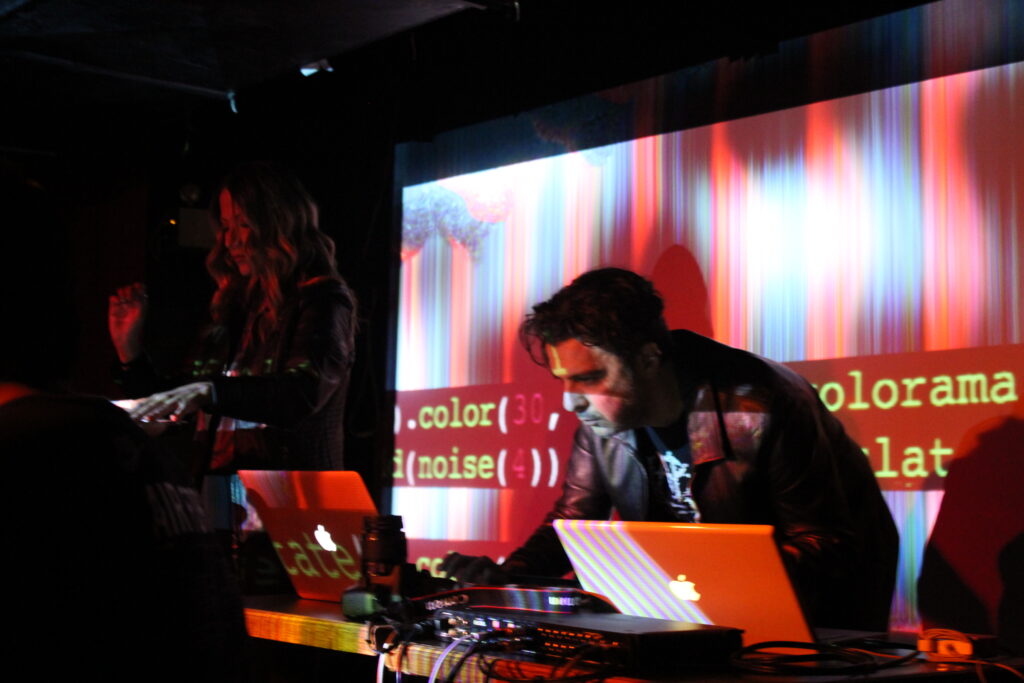 RAC: Tell us about your musical education at RAC. Why did you decide to study audio engineering and what were the most significant takeaways from your studies?
v H+ : After years of self-study and exploration, finally, MP and I decided to gauge the knowledge. We did our research and chose Recording Arts Canada to do that. To calibrate our savoir-faire, work more on our technical language skills, meet like-minded people in the media and music, and find opportunities to showcase our talents. To me, media production was primary, and as they are not really separate, I enjoyed engineering a lot as well.
M P : All of the updating, improving, and calibrating of the skills can be considered a learning process. It is necessary for sustainable activity, and extremely healthy for the mind. Also, the diversity of creative minds at a sound school is enormous and can open gates to collaboration and group work.
Becoming a sound engineer is certainly an important moment for a composer/musician. You can divide all of their artistic output into two parts: before and after becoming an audio engineer.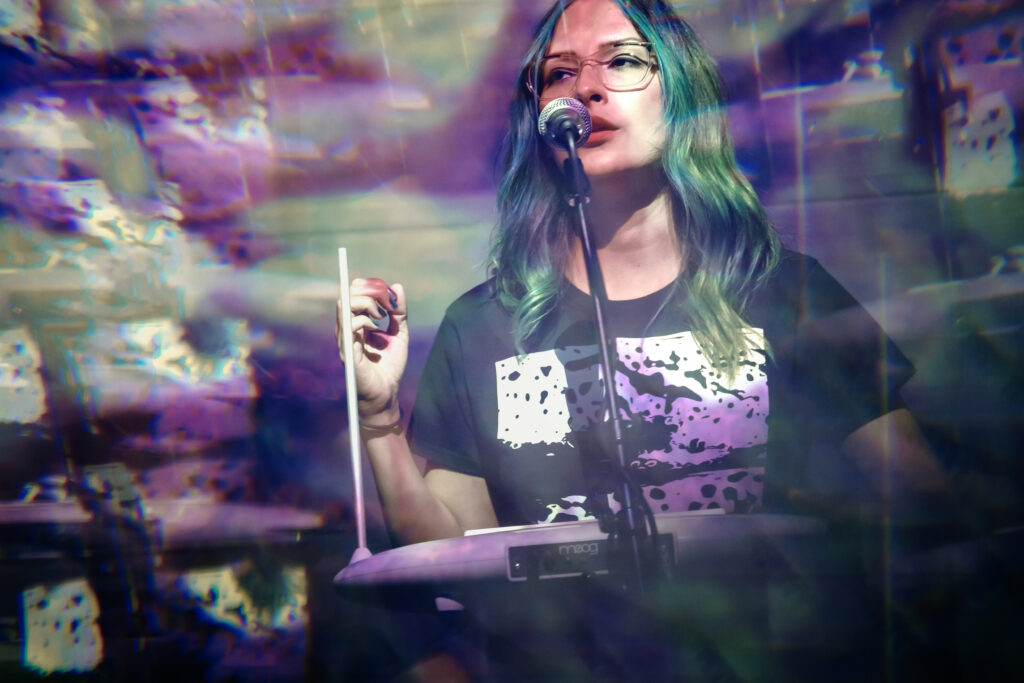 RAC: Thank you so much for your time, v H+ and M P! Do you have any projects that are coming up? What can we expect from you for the rest of 2022/early 2023?
v H+ : For the time being, we are setting up a new studio.
Composing music for an immersive environment, and integrating that with computer-coded visuals is our main field of interest.
We are designing an immersive listening room in one of our studios. In order to do that, MP and I have to do a lot of systematic research on passive amps and immersive speakers.
Also, in our music production department, some stuff is almost ready. Stay tuned for that!
M P : Immersive audio is the main interest of "Pazhutan Ateliers"
We are also going to introduce a new program from our 3S1T project, which will be a 3D Space observation VR coherent with our music.
Also, I am programming a massive bank of MIDI chords and chord progressions for composers and songwriters.
We will have live performances in the summer of 2023…hopefully!
Thanks to you…
Love
v H+ | M P
Written by Ania Szneps
Illustration by Yihong Guo