RAC student Maria-Lorraine Caluya, better known as Lørra, is making her mark in Montreal's R&B scene with a commitment to creative authenticity. The singer-songwriter's forthcoming album D'ange Heureuse promises to share her compelling story of reflection and resilience.
Follow Lørra
Lørra: Cheat Sheet
Describe the sound of Lørra:
R&B/Jazz
Biggest accomplishment so far?
EYEZ (SoundCloud vers.) racked up 1K+ plays in 3 days
Favourite release of 2021?
You Want My Love – Earth, Wind & Fire feat. Lucky Daye
Morning person or night owl?
Morning person
Ultimate career goal?
To use my platform to help others
Montreal's very own Lørra is on a mission to make you feel it all. Whether she is pouring life lessons into her lyrics or using her voice to rally for change, the RAC student is building a name off of her convictions.
Inspired by the emotive complexity of artists like Céline Dion and Tori Kelly, Lørra's music is characterized by an eternal desire to find purpose in the imperfections. Solo singles "EYEZ" and "miss me" reflect the songstress' ability to mix smooth sensuality with a poignant edge – and this is just the beginning.
With one final semester at RAC, Lørra is ​​refining her brand of pensive R&B and making finishing touches to upcoming album D'ange Heureuse. Slated for release next year, Lørra's trilingual debut promises to deliver cathartic revelations for both artist and listener. We recently sat down with the up-and-comer to dive into her world of introspection and hear more about what's to come.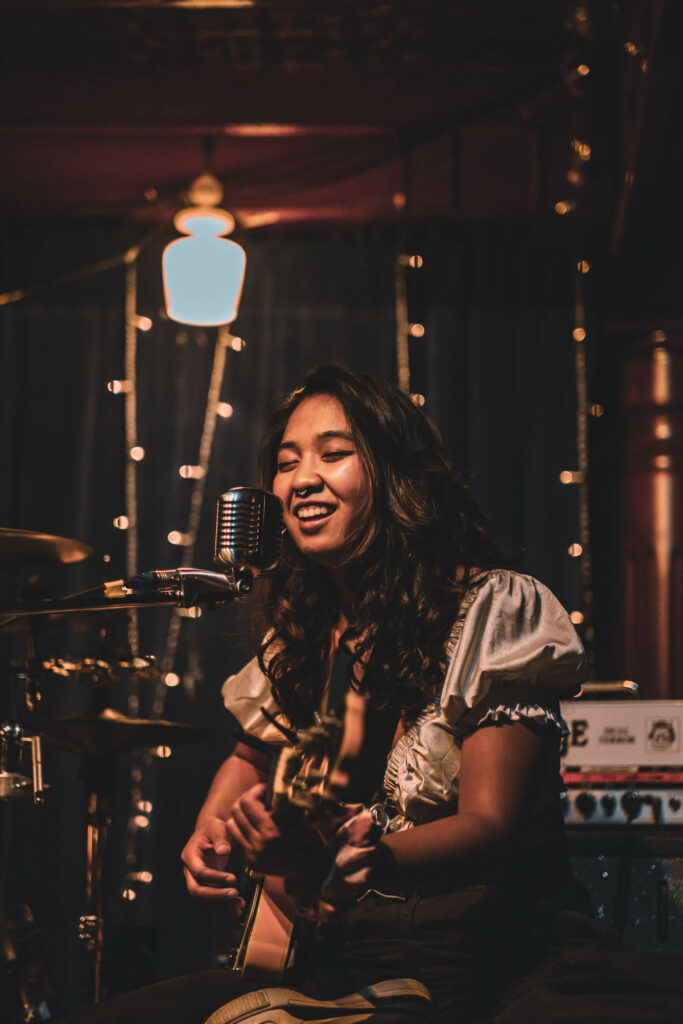 RAC: Tell us more about your musical upbringing. How did your past experiences shape you into the artist you are today?
Lørra: Growing up, I studied at a public school that was incredibly passionate about music. I became an orchestra drummer, sang lead for the school jazz groups, and performed in musical theatre. I also learnt world percussion and fell in love with the congas.
I have been rejected at least once for every band I have auditioned for. I'm glad I decided to audition again, because I was given bigger roles than I had previously expected. Through those experiences, I learnt the struggle and joy of trying again. It made rejection worth it. All of these elements encapsulate all that I implement in my art today.
After briefly studying psychology, you made the switch to study sound production at RAC and follow your dreams. How did taking a break from your music impact you, and what did it teach you about yourself?
Lørra: My brother moved to Vancouver in 2012; he was a broke artist, but every time we spoke on the phone, he said "make music, I'm serious". I dropped everything during the first lockdown, and flew out to be cooped up with him in his apartment. One day, I woke up, looked at my brother and said "I wanna learn at RAC, I'm gonna learn how to communicate my ideas to producers and make music that displays emotion not only in vocals, but through every sound".
One of the things I realized at this time was that I had proven myself enough – to myself and to my family. I also realized that I made my decisions based on other people's thoughts, but that only I was burdened with the five-year pain and regret of giving up on music. Submitting to a life without music creation felt like another way of dying, but having to live through it. I believe that embracing this lifelong passion was the best thing I could do to love myself right, and in turn continue to love the world around me.
​​What is it about R&B music that attracts you to it? What do you bring to R&B?
I'm attracted to the way emotion is shared in R&B: the imperfection, the cheesy crying under the rain, the storytelling, the samples that are recordings from real conversations or empowering speeches from important figures, and how these samples further amplify the emotion that artists try to convey. I think that, as humans, we're afraid of love. We're afraid of trusting people, and we're afraid of our emotions and even more afraid of showing them.
I'm not sure it's possible to bring anything new to the ever-changing genre, but I want to convey emotion through my music. I want to make people feel the emotion I feel and intend for the given track. I want to take listeners on emotional roller coasters, introduce pain as strength, and help in being a reminder that emotion is humanity.
You describe your debut album D'ange Heureuse as carrying "themes of diaspora, depression, growth, pain, and acceptance". Walk us through these inspirations behind the project and your creative process.
Creating the album was a very emotional process. It had a lot to do with my parents and acceptance.
With one of the songs on this album, "Would You", the questions I'm asking are "Could you understand what I went through? Do you want to understand?". I was very emotional as a child, and cried because I didn't know how to express that; writing that song was like a love letter to my parents. When I first showed the song to my mom, she was initially angry. The song carries themes such as drug abuse, abuse, and depression within my family – things I didn't understand until much later. This was me saying to my parents "I love you, despite what you went through – that makes me who I am."
With that theme of diaspora throughout the album, even as a second-generation immigrant, there are traumas that we come in contact with that we didn't have to. It was the first generation's trauma, but they didn't understand that word; writing this was my way of saying "now let's try to back-track and deal with your trauma so that you don't have to treat others like this".
The album will be in Tagalog, French and English. There are identities of being a Montrealer in the album, of being too French for the English and too English for the French. And as a Filipina, others saw me as "too dark" – in the Philippines, if you are dark and skinny it means you are poor and worked in the sun. Growing up and having dark skin, I got made fun of for that – I started buying lightening soaps and creams, but I didn't realize how wrong that was until later. In this album, I learned to embrace my skin and say "fuck everybody who says something about my skin colour, because why does it matter to you"?
With regards to the creative process, I've been working with students in my RAC cohort. We are all so close. One day, I was at school and a classmate said "I have a few beats, and I had you in mind". My classmates and I started a process where I would come back and say "This is something we're doing together, but this is your beat, you've made me feel this way. You've given me this power".
I recorded some of these tracks at school; it gave me a place, and taught me that I needed a team. I gathered other students and asked them to be my judges. Getting to know my RAC cohort, them and their art, it feels good because it's not necessarily just about audio, but also about connection. One of the songs on the album, we came up with together in class – we were instructed to incorporate aspects of jazz into a song, and I listened to the result and said "that's a song I'm going to write now".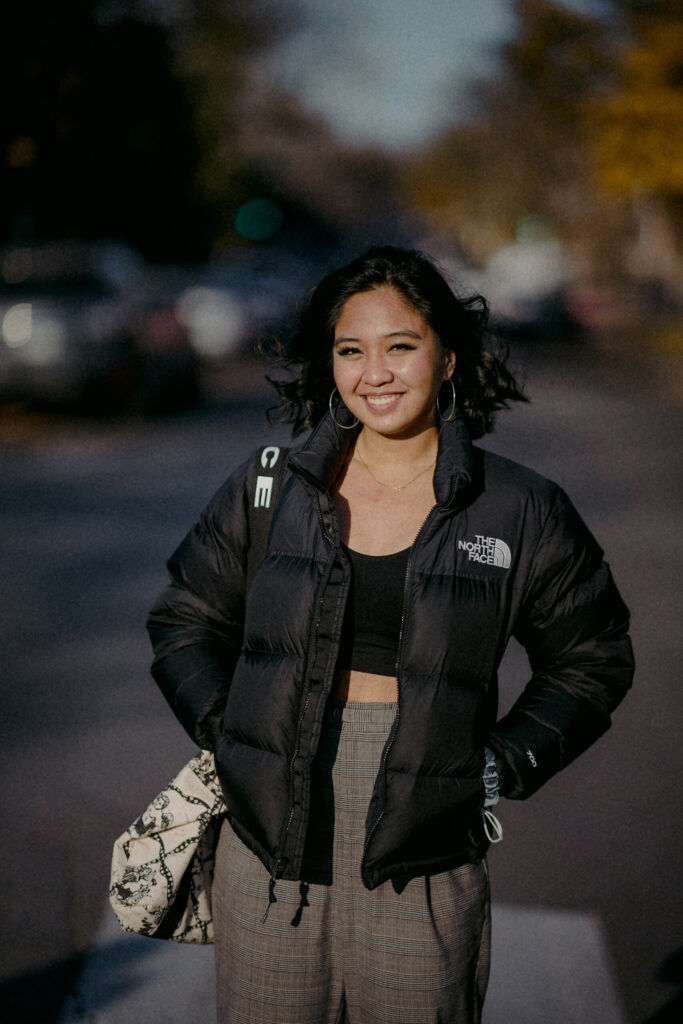 You mention that your artistry is influenced by your parents, and the bond that you are building with each other. Can you elaborate on how your connection to family fuels your art?
Coming to terms with my relationship with my parents was the most difficult thing I'd ever had to overcome, but it gave me a lot of emotions to work with. A lot of extreme emotions that I felt, I couldn't share with others, so I wrote. I wrote even more when I realized the limits of their humanity, how their traumas affected how they treated me, and in turn, how I felt. When we found a way to understand that we could learn from each other, that's where I found freedom in my art. It was all about understanding and communicating emotions.
What has been the hardest lesson for you to learn as an emerging artist?
The hardest lesson to learn came through navigating the amount of passion I have. I went into RAC because I wanted to be able to communicate with producers, and now being at RAC I say "I want to do this myself… communicate and produce it myself".
The hardest part was understanding that while I'm in school, I'm going to have to just learn it – to go through that difficult side of learning technicalities before I am able to finish my album and know that I've given it the respect that it deserves. If I just released the album and was not fully okay with it, I wouldn't be able to keep listening to it. I also needed to accept that other people can help.
What are the other passions in your life that fuel your creativity and contribute to your artistic growth?
My best friend actually got us both into roller-skating during quarantine; we skated once, and from then on I was doing it everyday. Sometimes during class, I would skate around.
For "Baby Bubbles", one of the singles of D'ange Heureuse, I recorded that at RAC and my instructor Simon Jodoin helped me record it as an example for class. I tried singing it to the class but was dealing with stage fright. My instructor told me to put my skates on… and the song just came out of me. I was able to sing that song beginning to end, releasing my vocals the way I should and without stress.
Roller-skating has become such a support in my life. When I'm on roller-skates, I feel more creative. Skating gives me some fear, physically, but also some courage that I can use in my music that I've never been able to do before.
I am also passionate about Philippine politics and activism. The Philippine government is very corrupt, and with the upcoming elections the government is reminding older generations of what happened in the past. To me, it's really important to re-integrate love and empathy into our culture, because that is not how my parents were but I knew it was ingrained far back in our lineage. I am fighting against martial law in the Philippines, to have a better government – even if I don't live there, I know the world needs to know about it because we don't talk about it.
What can we expect from Lørra leading into 2022?
I have booked two photo shoots with Montreal and Vancouver artists for my album, explaining to them in detail what my emotions are in this album. I am almost done with D'ange Heureuse, but I will be taking a break after fully writing it so I can apply for project funding and also help fight for the rights of my countrymen. "Baby Bubbles" will be out in the next couple of months, and D'ange Heureuse will be out in 2022.
Written by Rebecca Judd
Illustration by Malaika Astorga