The audio interface, a central hub of connectivity in any budding home studio, is a crucial starter piece of equipment. Investing in a quality interface will always be worth your while, but for those of you who are building your home studio on a budget, we've rounded up five options that you can find at a great price. Let's take a look at each, considering their strengths and weaknesses and who they might be right for.
Note that the rating system is only comparative to the other items on this list. All audio interfaces being discussed are excellent choices in their own respective way.
M-Audio M-track 2×2
https://m-audio.com/m-tracks/2×2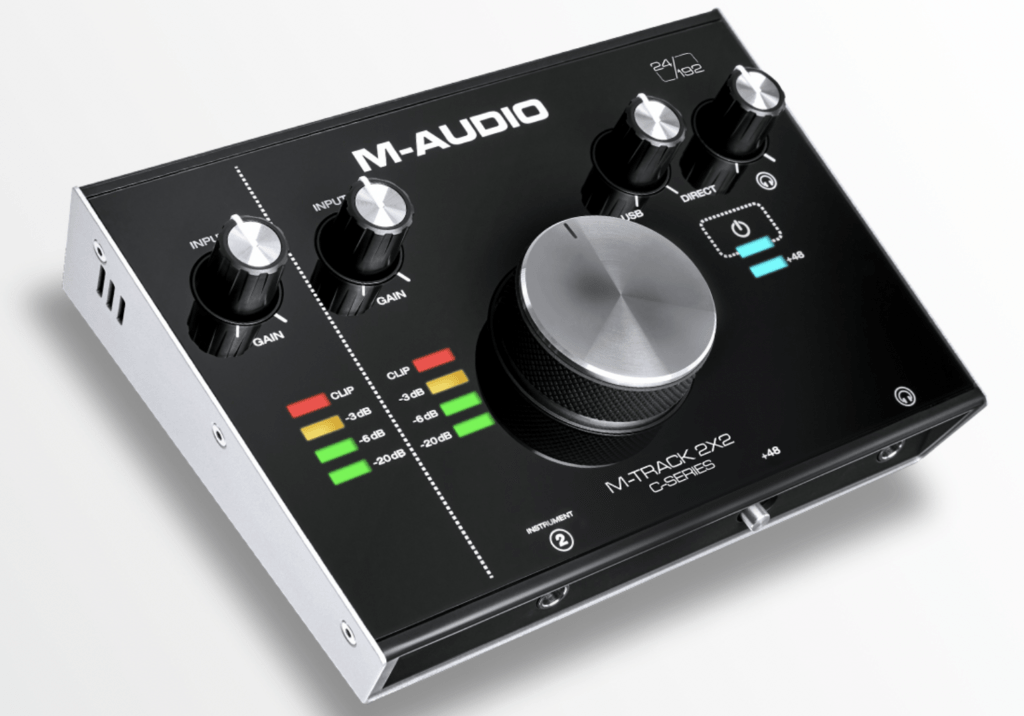 Rating: ★★☆☆☆
Cost: ~$100 used
I/Os: The M-Track 2×2 contains the smallest number of I/Os on this list, boasting a single combo XLR + ¼" input, one ¼" input, a headphone output and a ¼" stereo output. The M-Audio uses USB to connect to a computer.
Metering: This interface provides full coloured metering for each input channel.
+48V Phantom Power: Yes
Portability: The M-track is very compact and weighs 0.9kg, making it extremely portable.
Good For: This interface is great for solo musicians or those recording mono sources such as voice or hardware modular synths.
Not Good For: The M-Audio interface cannot be used for anything larger than a stereo source and isn't capable of recording MIDI.
Points to Note: The M-Audio only features a single headphone output, which makes recording anything other than a solo artist quite difficult. The M-Audio does, however, feature stainless steel control knobs as well as a large macro volume control for the stereo output which promotes durability and ease of use.
Summary: This simple and compact interface is great for any musician on the go, or an engineer that may be required to record on multiple sites. It is one of the most basic and cheapest options on this list.
Focusrite Scarlett 2i2
https://focusrite.com/usb-audio-interface/scarlett/scarlett-2i2


Rating: ★★☆☆☆
Cost: ~$130 used
I/Os: Offers two combo XLR + ¼" inputs, stereo output, headphone output and USB connectivity, making it fairly standard in terms of usability.
Metering: A small ring around the gain knobs of both channels will illuminate green for signal, and red for peaking.
+48V Phantom Power: Yes
Portability: It is extremely lightweight (0.6kg) and very small, making it the most portable interface on the list.
Good For: This interface is perfect for small home studios and solo artists.
Not Good For: Larger musical groups or studio tracking setups where both the artist and engineer will require headphones.
Points to Note: As the Focusrite Scarlett does not contain any MIDI connections, it can make certain styles of music creation, such as electronic or hip-hop, rather difficult. However, each input for the Scarlett 2i2 contains a toggle switch between line and instrument level as well as having the ability to supply phantom power. In addition, the Focusrite Scarlett boasts a direct monitoring switch, which allows the user to listen to the input signal with virtually zero latency.
Summary: The Focusrite Scarlett is one of the most widely used beginner audio interfaces, and for good reason. Its compact size, portability and low cost make it perfect for any small project provided it doesn't require MIDI.
Presonus Audiobox 1818VSL (Discontinued)
https://www.presonus.com/products/audiobox-1818VSL


Rating: ★★★☆☆
Cost: ~$250 used
I/Os: Offering a wide range of I/Os, this interface contains eight combo XLR + ¼" inputs, stereo ¼" output, ADAT, S/PDIF and MIDI inputs and outputs, as well as ¼" line outputs for each of the eight inputs. This interface connects using USB.
Metering: The 1818VSL contains full coloured metering for the L/R outputs as well as peak labelled LED's for each individual track that will illuminate red when peak levels are reached.
+48V Phantom Power: Yes. The 1818VSL has phantom power in banks of 4 channels, meaning you can engage phantom power on channels 1-4 or 5-8. This will allow you to safely connect microphones such as Ribbons on a separate bank of inputs than your condenser microphones. Other audio interfaces such as the Scarlett 2i2 will send phantom power to all of its inputs.
Portability: The Presonus Audiobox is quite large, albeit slim, and may be carried in a backpack. However, it is quite hefty, weighing in at 2.1kg.
Good For: The 1818VSL is quite good for recording multiple instruments or for drum tracking.
Not Good For: The 1818VSL is useful for on-the-road recordings when capturing a multitrack is a must, such as a live show. Otherwise avoid using the Audiobox for live applications or for on-the-go recording when simply capturing a 2-track or vocal take, as it is not the easiest to move around. Aside from that, this interface is quite good in most situations.
Points to Note: While the Presonus Audiobox 1818VSL has many great features, it is quite hard to come by. Much of the 1818's marketed versatility and cost is attributed to the discontinued software that was once included with it: StudioLive. Without this software, the value of the interface falls substantially. It is also worth noting that the interface includes a clocking feature which allows it to be synchronized with other devices.
Summary: The Presonus Audiobox 1818VSL is still quite a good interface if you can find the right asking price and its associated software, Presonus Live. Overall, this interface is an excellent choice for those looking to record bands or live drums if you can get your hands on one.
Audient iD14
https://audient.com/products/audio-interfaces/id14/overview/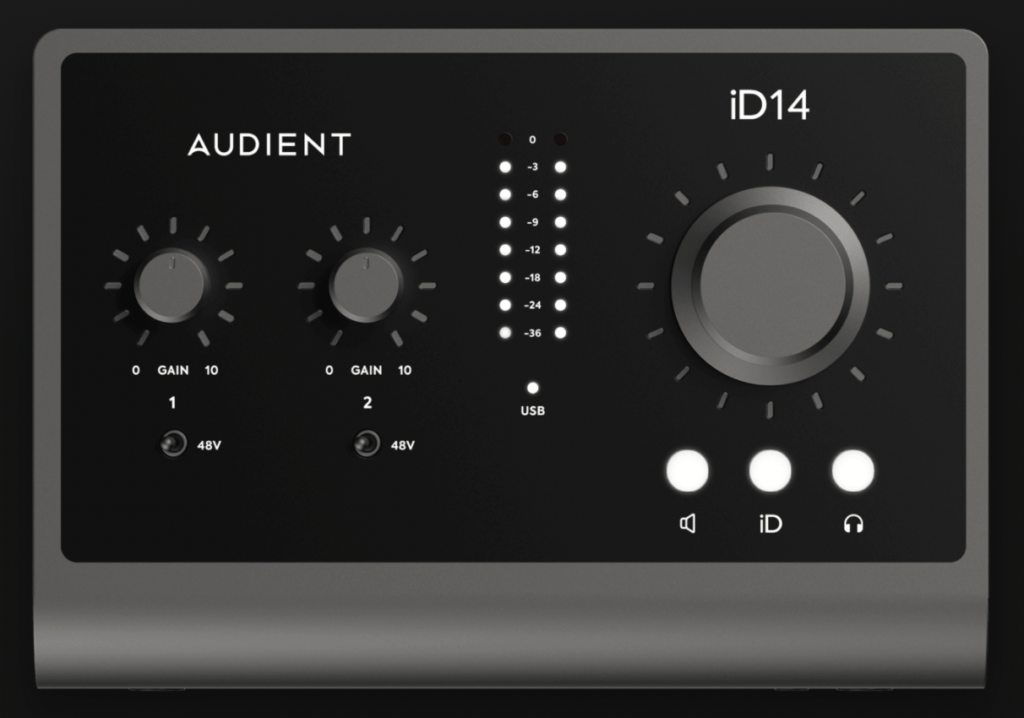 Rating: ★★★★☆
Cost: ~$190 used
I/Os: Supplies two inputs with the option of XLR or ¼" line, and a ¼" DI. Sports a stereo ¼" output, optical input, a headphone output, and USB connectivity.
Metering: This interface contains full coloured metering for the stereo output.
+48V Phantom Power: Yes
Portability: Being quite small, and of a full metal construction, this interface is quite durable and great for portability.
Good For: The Audient is a good choice for small home music creators, as it provides two audio inputs as well as a direct injection.
Not Good For: Not ideal for any electronic music creation due to the lack of MIDI connectivity.
Points to Note: The Audient provides an optical input, supporting both ADAT and S/PDIF, enabling the expansion of up to 10 inputs. Also, the single headphone output can be limiting in certain studio circumstances which is worth keeping in mind.
Summary: The Audient iD14 provides an improved experience compared to that of the M-Audio M Track 2×2 as it comes with an optical connection. Generally speaking, the Audient is a great first-option audio interface for any starting acoustic music creator.
Avid Mbox Pro
https://www.avid.com/learn-and-support/pro-tools-mbox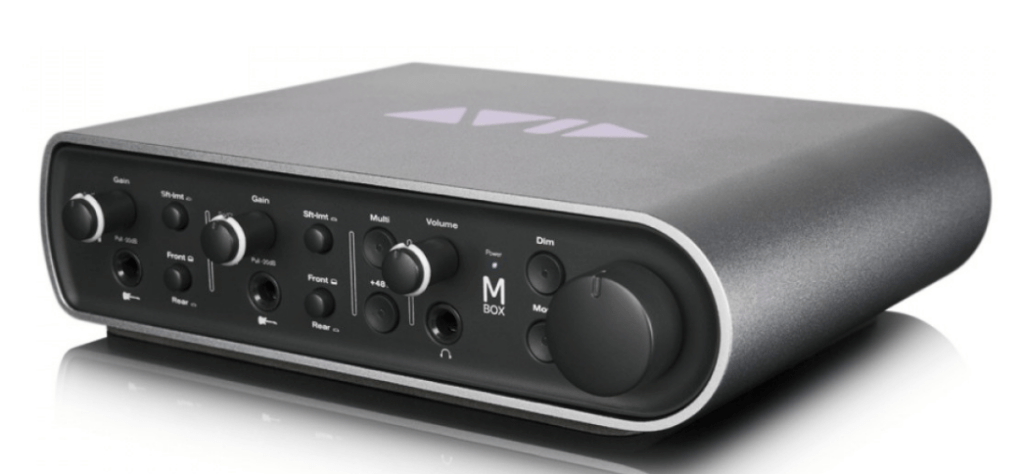 Rating: ★★★★★
Cost: ~$200 used
I/Os: The Mbox Pro contains several I/O options including four selectable mic or line inputs, two RCA auxiliary inputs, four ¼" inserts for the first four inputs, six ¼" outputs, two headphone outputs, a footswitch, word clock either MIDI or S/PDIF, and two FireWire connections.
Metering: Individual full coloured metering is provided for the first four inputs.
+48V Phantom Power: Yes
Portability: The Mbox Pro is the heaviest interface on this list weighing in at 2.8 kg and is quite large, making it the least portable option.
Good For: This interface is excellent for duet or small group recordings as well as solo artists and music creators provided they do not require a MIDI connection.
Not Good For: Avoid using the Avid Mbox for MIDI tracking or live drum tracking as it does not contain the necessary inputs. If you need to be able to travel with your interface, this probably isn't the best choice for you as it is quite heavy.
Points to Note: The Mbox Pro allows for hardware inserts to be used on each individual track, a feature not often found in beginner-level interfaces. In addition, the Mbox Pro offers a Dim/Mute and Mono switch for the headphone and line outputs, allowing for better control and versatility. Another point of note is the Multi button, which is an assignable macro button allowing for the instantaneous execution of multiple functions within Pro Tools.
Summary: Avid's Mbox Pro provides a diverse range of functions and uses, and is ideal for music creators and engineers starting out. If you can get your hands on the Mbox Pro, which can be tricky as it is discontinued, it is well worth the little extra cost.
What's Right for You?
Despite being the heaviest and one of the most expensive, the Mbox Pro stands out as one of the most versatile and durable entry-level audio interfaces. That being said, the Presonus 1818VSL may prove to be more suitable for electronic music creators, while the Audient iD14 may provide a better experience for a drummer. A Focusrite Scarlett 2i2 might be an excellent choice for a mobile audio engineer and a M-Audio M-Track 2×2 may be the best choice for a solo vocalist on a budget.
The sheer amount of usage that an audio interface endures is reason enough to carefully consider your options when purchasing one. Sites like reverb.com or Kijiji are great places to find the right price for the interface that you want.
Illustration by Yihong Guo