Devon Cole has mastered the art of viral videos. Her rewrite of Robin Thicke's controversial  "Blurred Lines" (converting it into a feminist anthem about consent) is currently sitting at 5.7 million views on TikTok and 3.4 million views on Instagram Reels – and this isn't her first rodeo. Devon has hit the million view mark on approximately seven videos on various platforms, and most of her other videos are hitting several thousands of views. So, what's her secret? Devon sat down with RAC and spoke about how she gets inspired to create, what equipment she uses, and her tips and tricks for creating viral content. 
RAC: Tell us a bit about your background and what drew you to pursue a career in music!
Devon: I'm a Calgary-bred singer-songwriter. I graduated from university in 2020 with a psychology degree under my belt. I decided to try releasing a song and never imagined that I'd be making a career out of it, honestly. I've always LOVED music and songwriting and performing, but it seemed like a far-fetched idea. I actually planned to attend school for copywriting in Toronto, but then my first song started to gain some traction and I decided to do music full time and take it more seriously.
RAC: Did you study anywhere? Or are you self-taught?
Devon: I did a few music camps when I was a teen, and I took singing lessons before high school, but I took a break from high school until 2020. I taught myself how to play guitar (and it shows).
RAC: You have a super unique sound that feels really authentic and genuine to who you are as a person. How would you describe your music to someone who had never heard it, and what are some artists/art/things that have been a major influence in you developing your sonic aesthetic?
Devon: This is such a sweet compliment, thank you so much. I would describe my sound as indie pop with a bit of country flair, since I am a cowgirl at heart (yeehaw). I'm a sucker for a good pop song, but I also love R&B, disco, and country music. I'm majorly influenced by LÉON, Maggie Rogers, Dua Lipa, Kacey Musgraves, Anne-Marie, Julia Michaels… That's my girl gang right there.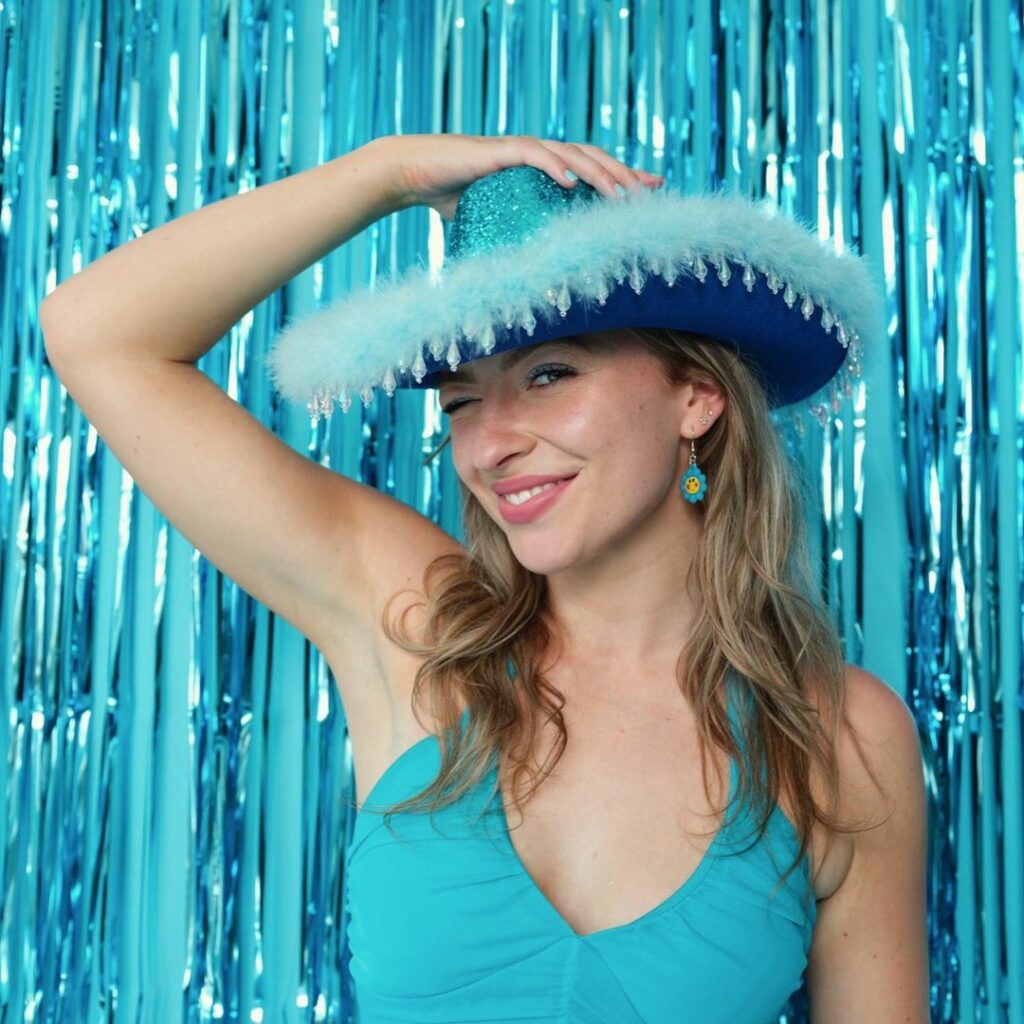 RAC: You're really good at navigating the internet. Did your passion for video editing and performing online come before or after the music?
Devon: Oh my god, this is so funny. Thank you so much, that's really kind. I started making TikToks and doing little videos after I released my first song. It's definitely something that I had to work at. It took me a couple of months of posting to figure out what kind of content works. Once I found out that writing a verse on a popular artist's song seems to perform well, I definitely tapped into that. But it's something that I had to learn, through a process of trial and error.
RAC: We LOVE your "Blurred Lines" remake. What inspired you to create the now-viral video, and can you tell us a bit about the process?
Devon: Thank you so, so much. I was listening to my favourite podcast Renegade and the hosts were discussing the atrocity that is "Blurred Lines". Since I was already in the game of re-writing popular songs, it clicked with me that "Blurred Lines" was a song worth fixing. I'm glad that culture is shifting towards seeing sexual consent as a fundamental human right – obviously we have a long way to go still, but the fact that this rewrite resonated with so many people is an indication that the winds of change are blowing, I think.
RAC: You've had a few viral videos now.  Is there anything you do when something goes viral to make the most of the opportunity?
Devon: No, not really. I'm always moving on to the next thing, but sometimes I'll do a part 2. You never know what's going to take off, and it's also different for every creator. It's mostly a process of trying out a few things, seeing what hits, and using that to inform future videos.
RAC: What gear do you use to record your music, Reels, and TikToks, and would you recommend this gear to a student who was interested in creating music content like yours?
Devon: I use my Focursite Scarlett Solo audio interface, DT 770 Pro headphones, and my Shure PGA48 mic every day. I recorded my EP in my closet with a nicer Shure SM7B mic (a greater starter mic). I record using Logic. I would definitely recommend starting with an audio interface, and downloading a program like Logic (GarageBand also works). Equipment is often expensive, so I recommend renting a mic from places like Long & McQuade before buying one, just to make sure you love the sound it's capturing since every mic is a little different.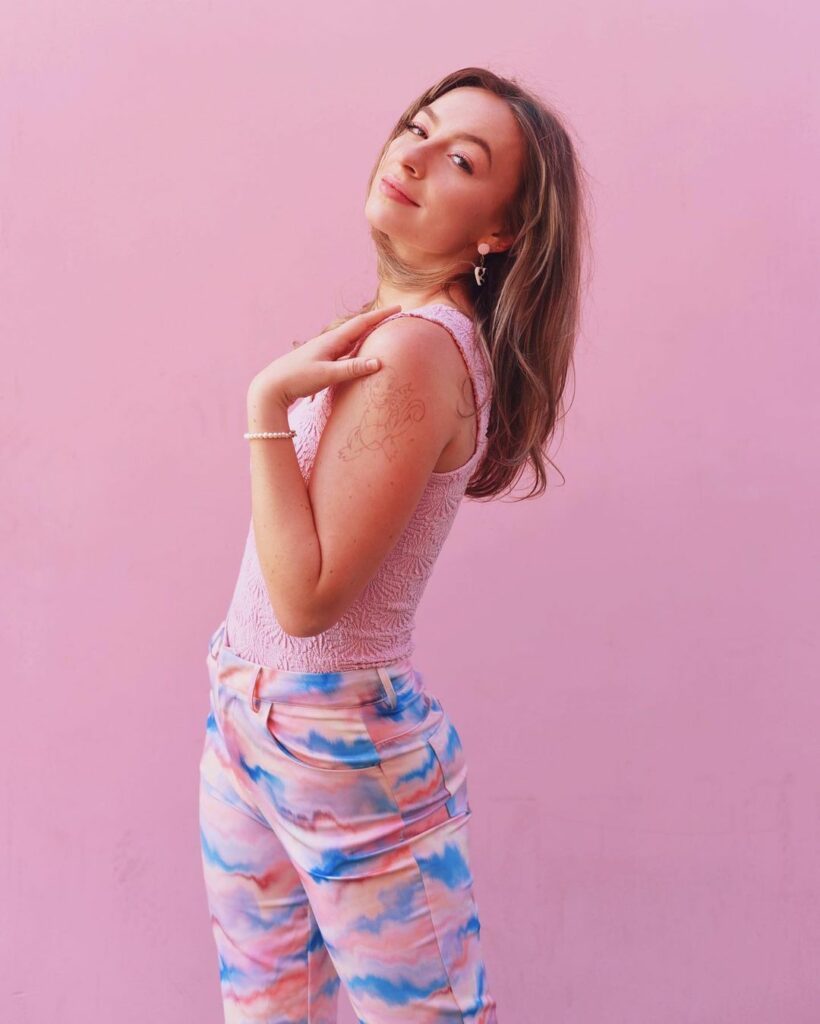 RAC: You've seen quite a bit of success with your Reels content as well. Do you find that the videos that perform well on TikTok perform well on Instagram too? Do you have a strategy here, or are you winging it like the rest of us?
Devon: WE'RE ALL WINGING IT THESE DAYS, SIS. But to answer your question, the content that does well on TikTok usually performs well on Reels. I post more frequently on TikTok and use that as a sounding board for what works, and then reuse the same videos for my Reels. TikTok is also a platform that favours quantity; the more you post, the more likely something is to go viral. But that shouldn't be the goal, you know? Post stuff because it makes you happy.
RAC: What kind of content generally tends to perform best for you (i.e., music-related posts, personality posts, duets, etc.)? Why do you think that is?
Devon: Duets are always great, and it's a wonderful way to engage with other creators, but I would say the "write-a-verse" series is what performs best for me. To anyone reading this looking to break on TikTok, I would recommend trying this out! Find a karaoke version and the original version of a popular song on YouTube, and convert those two videos into MP3s. Import them into Logic or GarageBand and line them up so that the karaoke version replaces the second verse of the original song. And then just have fun making up your own lyrics!!
RAC: You seem to have a pretty strong visual aesthetic/brand identity, especially on Instagram. What role does that play in your creation process? Do you have any advice for new creators on how to build a strong identity?
Devon: Aesthetics are important to me, and that definitely comes into play when planning things like album art. I would recommend getting a Pinterest account. Pinterest is SUCH a great source of inspiration for outfits, makeup, photoshoot ideas, editing ideas… I could spend hours on there. It's like TikTok or Instagram in that it learns about and remembers your likes and aesthetic, so the more you use it, the more refined your feed becomes. So I would use that to suss out what kind of things (aesthetics, typography, fashion, etc.) you're drawn to!!
RAC: How important are your online platforms when promoting new music, like  your upcoming debut EP? What kind of team do you have set up for your releases? Any best practice tips for fellow emerging artists?
Devon: Socials are obviously important, but the music comes first!! I have a manager and a great producer who help me out so (so) much. But you definitely don't need a team to start out. Making music is sometimes overwhelming for me as someone with anxiety, but something I like to remind myself is that "it's just music. It's supposed to be fun." I forget that sometimes.
RAC: What is the big goal for you? Meaning, what comes next in your dream world?
Devon: I hope to continue writing, changing, refining my brand and my sound, and growing my following. I plan to stay independent for as long as possible until I can't grow on my own anymore, but I am excited to start playing live in 2022. And in a dream world, I would love to have an opening slot on a tour in the fall.
RAC: Is there anything exciting you can reveal that's on the horizon? What can we expect from Devon Cole in 2022?
Devon: I'm playing my first headline show at the El Mocambo in Toronto in the spring! I'm so excited to squish everyone and get drunk together.
—Final notes—
Offering some parting advice to emerging creatives, Devon encourages artists to remember that, although social media tools are important for promotion, music should always come first. It is also important to remember your essence as an artist; leaning into the sound that you want to create is the best way to succeed and represent yourself authentically.
As a final tip, Devon suggests trying to finish original songs in their entirety – lyrics and arrangement – within the first couple days of first approaching an idea. "I think Ed Sheeran said once that if he doesn't finish a demo in one session, the song usually stays unfinished," she adds. "Try fleshing it out as much as you can!" You never know which hidden gems can come out of pushing through and testing your creative limits!
Text written by Maya Malkin
Illustration by Yihong Guo