If you're an emerging artist in the early stages of your career, chances are that you'll be wearing a lot of hats as you build your foundation. You'll handle the craft, the business, and everything in between, so it can feel overwhelming as you try to manage all the moving parts that go into growing (and maintaining) a music career. A more developed artist typically has access to entire teams of people responsible for creating visuals, forming release strategies, building online content, arranging press opportunities, planning live shows or tours, etc. When you're starting out though, it's most likely going to be just you – and maybe a music-enthused buddy, or your mom – running the show. But don't freak out! These days, there are many invaluable tools at your disposal that can help you level up, no matter where you're at.
Here are a few of the most essential online tools that every artist should know about.
Streaming Platform Tools for Artists
If you've ever released music on any major audio streaming service, you may already be familiar with some of their artist-catered platforms such as Spotify for Artists, Apple Music for Artists, Amazon Music for Artists, and so on. On each of these platforms, artists can create an account and claim their profile, which in turn gives them access to their streaming data and other useful marketing and promotional tools.
Every artist should claim their profile on every respective platform available. However, keep in mind that not all platforms function the same. Some are more robust, giving you access to a wider variety of data and profile customization, while others are more limited, requiring you to go through your distributor just to gain access to your profile. Either way, it's in your best interest to use each of them in whatever capacity they offer, so that, at the very least, your profile picture and bio info are consistent across all channels.
Here's a quick overview of the artist account platforms of some of the more prominent online music streaming services in North America:
Spotify for Artists
One of the first platforms to grant artists behind-the-scenes access was Spotify, and it remains one of the most functional. Their stats allow you to see how your releases are performing, where you're being discovered, and who your audience is. You can also grant profile access to team members, pitch your upcoming release to playlists, and customize your artist profile with pictures, a bio, social links, merch, tour dates, featured playlists, fundraiser links, and more. There are a few features that are unique to Spotify as well, including Canvas (a looping video visual that you can add to any of your tracks in lieu of static artwork) and Promo Cards (personalized graphics that you can share online to promote your music). It's also quite easy to get access to Spotify for Artists, which you can explore here.
As an artist, you will appreciate the range of profile customization that Spotify for Artists offers. It's almost like having a mini website – though you should still absolutely have your own official website as well! When you release music, you can refresh your whole profile and take advantage of the special features like Canvas. We know that Spotify is a vital discovery tool for music fans, and being able to instantly draw them into your world within the platform itself is key.
Apple Music for Artists
Like Spotify, Apple Music for Artists provides data on your streaming performance and listener demographics. It also includes stats on iTunes downloads and Shazams (Apple acquired Shazam a few years back), and allows you to share access with team members. However, its profile customization is limited to changing your artist image. That being said, it has recently added some cool new features that artists can take advantage of, such as:
Milestones (shareable social media posts)
Twitter Audio Cards (tweet a 30-sec. song preview with your album cover art)
Adding song lyrics for fans
Embeddable audio players, badges, and QR codes for your music
You can find some pretty cool uses for these tools if you get creative. For instance, you can use "Listen on Apple Music" badges in emails to fans or QR codes on flyers to promote your releases. Learn how to claim your artist page here to get started!
Amazon Music for Artists
Amazon Music's artist platform is slightly more limited in the data it provides. It has stream count, source, and location, as well as listener count, but no audience demographics. Recently, the platform has been ramping up its editorial playlist presence, and now allows you to track stats on your playlist features. You can change your artist image and profile background image, but there is no room to share your biography. A unique feature that Amazon Music has is its voice reporting, which tracks how you trend on Alexa (meaning how often listeners are requesting you or your music) and you can also connect your Twitch account, so that fans get alerts anytime you livestream. To claim your profile on the artist platform or the app, you'll first need an Amazon retail account.
Deezer for Creators
Launched in 2021, Deezer for Creators provides similar stats to Amazon Music. Allowing for a little more customization, you can change your profile picture, write a status, highlight a track or album on your page, and include a biography in multiple languages. You can also share your latest release directly to social media. Here's how to claim your artist profile on Deezer.
Most of these platforms have guides and/or tutorials online that you can use to educate yourself even further. We encourage you to take the time to learn as much as you can in order to take full advantage of the handy (and *free*) resources that they offer. They are also all available as mobile apps.
TLDR: Streaming Platforms for Artists Cheat Sheet
Linktree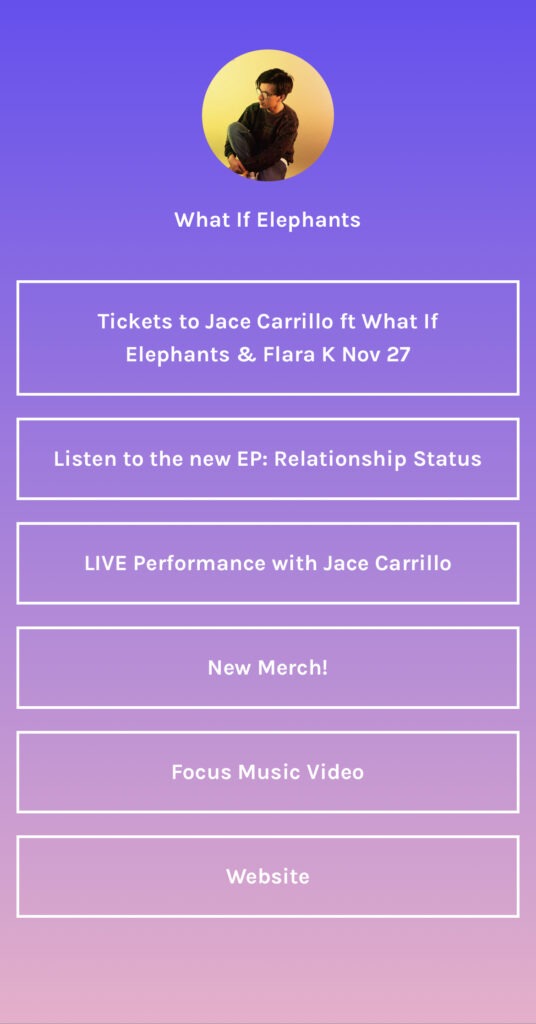 To put it simply, a smart link is used to host multiple links on one webpage. Though handy in many situations, it's most often seen in social media bios, where you typically can only have one active link displayed. An artist's or band's Instagram page, for example, may have a smart link that leads to their website, their online merch page, their streaming platforms, their latest music video, their tour schedule, or any number of other things. It can also be useful in many other online places, like YouTube video descriptions, email newsletters, or in the form of a QR code. And, it allows you to get creative with your marketing! (e.g. Try using a smart link QR code in print, such as on free promotional goods at a concert.)
Companies like Linktree allow you to create and customize a landing page for your smart link in an easy and user-friendly way. There are many other smart link platforms available, such as Linkfire, ToneDen, Beacons, and Feature.fm. Though the main functionality is similar among most of them, some have unique features and more room for customization. Linktree has both a free tier and a premium tier called "PRO", which unlocks a bunch of cool features such as scheduling, in-depth analytics, email collection, custom designs, etc. For the PRO tier, you can expect to pay a small monthly fee (currently $6 USD). That being said, the free option has plenty to offer if you're on a budget! You can show off unlimited links, collect payments, add video content, and get your own QR code, as well as see lifetime analytics of overall views and clicks.
We highly recommend utilizing this simple but powerful tool across all your online platforms. These days, audiences want all-access, all the time. The easier it is for them to get (i.e. less searching and clicking), the more likely they will actually explore your content.
Chartmetric
For most creators, we understand that data may not be the sexiest, most exciting thing to talk about. But we can't stress enough how essential and impactful it can be to not only have access to your own data, but to truly understand it and use it to your advantage.
There are many places where you can (and should) monitor statistics regularly: social profiles like Instagram (if you have a Business Account), streaming platform artist accounts, your YouTube Artist channel, your email integration platform (such as MailChimp), etc. Then there are other, more robust platforms that provide a more comprehensive overview of your streaming and social data, such as Chartmetric.
Chartmetric is widely used among music industry folk, from artist managers and A&R (artist & repertoire) teams, to digital marketers and music supervisors. It has an incredible breadth of sources and tools, pulling and comparing data from streaming platforms, social sites, playlists, radio stations, music charts and more.
When you follow an artist profile on Chartmetric's platform, you gain access to a user-friendly dashboard filled to the brim with easy-to-read, insightful charts with data from Spotify, Pandora, YouTube, Instagram, TikTok, and various other digital platforms. It shows you historical data of their followers, streams, listeners, views, and subscribers over different time periods. You can also track the artist's audience and gain insights into its demographic and geographic makeup.
The dashboard is one of our favourite features because it gives you a clear and thorough snapshot of virtually your entire digital landscape. However, there are many other handy features within an artist's profile. You can dive into playlist stats, learning about their overall reach, new track adds/removals, and overall playlist journey (how a track makes its way from small-to large-scale playlists). You can check out where a song is getting radio airplay, and even compare it and other tracks' stats across radio stations, cities, and countries. You can keep tabs on TV and film placements, as well as chart events. There is also a feature called "Neighbouring Artists" that allows you to compare one artist's market performance to other artists who have similar metrics.
To unlock all of Chartmetric's features, there is a monthly fee (currently set at $140 USD) which grants you access to the Premium plan. However, there is also a free plan for those on a budget (hi, independent artists!) which allows you to follow up to 5 artist profiles and gives you access to historical data from the last 28 days.
As you can see, there is no shortage of information. When you're able to compile and connect data, it allows you to discover trends and learn about what's working (or not working) for you. You can then use these insights to make decisions for the future: when to release your next track, where to tour, what content to put out. You can bet that big and small labels alike are doing this, and if you're an emerging or independent artist, you certainly can too. Of course, it's also important not to get too caught up in all these metrics and drive yourself crazy, but that's something we will dive into another time.
If you're out there making good music, you can't stop there. In order for people to hear it, you need to know how to effectively promote it, support it, and (one that's often overlooked) learn from its successes and failures. These online tools will empower you to do just that.
Text written by Andria Piperni
Illustration by Yihong Guo