Imagine this: You've spent months working on your debut album, re-recording and perfecting every song who knows how many times, and you've finally decided on a release date. Now, the final obstacle is getting people to listen to it.
You may find yourself in a position where you don't want to waste all your hard work on an album that no one ever hears, but you're not sure how to get the recognition it deserves. The first step to solving this conundrum is making an EPK (i.e., electronic press kit) for your project.
An EPK is, in essence, an all-in-one professional package that allows you to easily share your work with booking agents, the press, and other industry professionals. Most EPKs will include an artist biography, relevant media (e.g., pictures and videos), press quotes, as well as links to your discography, social media accounts, and streaming platforms.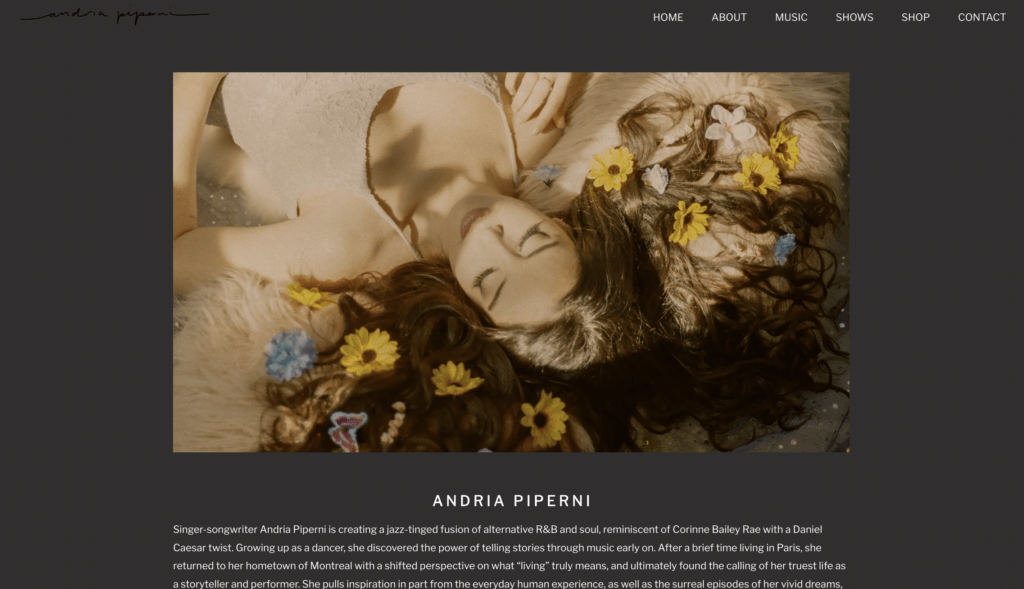 https://andriapiperni.com/press-kit
A polished press kit is the key to promoting your project, securing publicity, booking gigs, and more. In this article, we're breaking down everything you need to know about EPKs, from what to include, to what they might look like, and finally, how to use them.
What to include
Here are the basics of what to include in your EPK. This will vary slightly depending on who you will be sending it to – and what you want to promote – but these are the essentials you need to get started:
Formats for your EPK
Your artist bio & a description of your music
Discography
Press photos
Achievements and reviews
Your professional links
Events & release dates
Contact info
Formats for Your EPK
There are many different formats you can use to send out your EPK. Some people use email services like MailChimp, view-only documents on Google Docs, attach PDFs to their outreach email, host the EPK on their website, and some may even include it (if it's short enough) in the email itself. There's no wrong way to make an EPK, but there are a few things you should always include.
Your Artist Bio
Your artist biography is essentially your pitch for your creative project. It's useful to have both short and long versions that you can use in different contexts. You want to hook the recipient of the email from the start and retain their attention, so having your entire life story in the first paragraph may not be the best idea.
A longer artist bio might be better suited for your website, Spotify description, or in your EPK. Alternatively, a shorter version can be used as an opener for emails or even as your biography on different social media platforms.
It's a good idea to introduce your EPK with a short artist bio briefly stating who you are, a description of your project, where you're from or are currently based (if relevant), and any inspiration, motivation, or core themes in your work. This will help the recipient quickly gain an understanding of your project and will entice them to read further.
But how do you summarize your music into a snappy, short intro?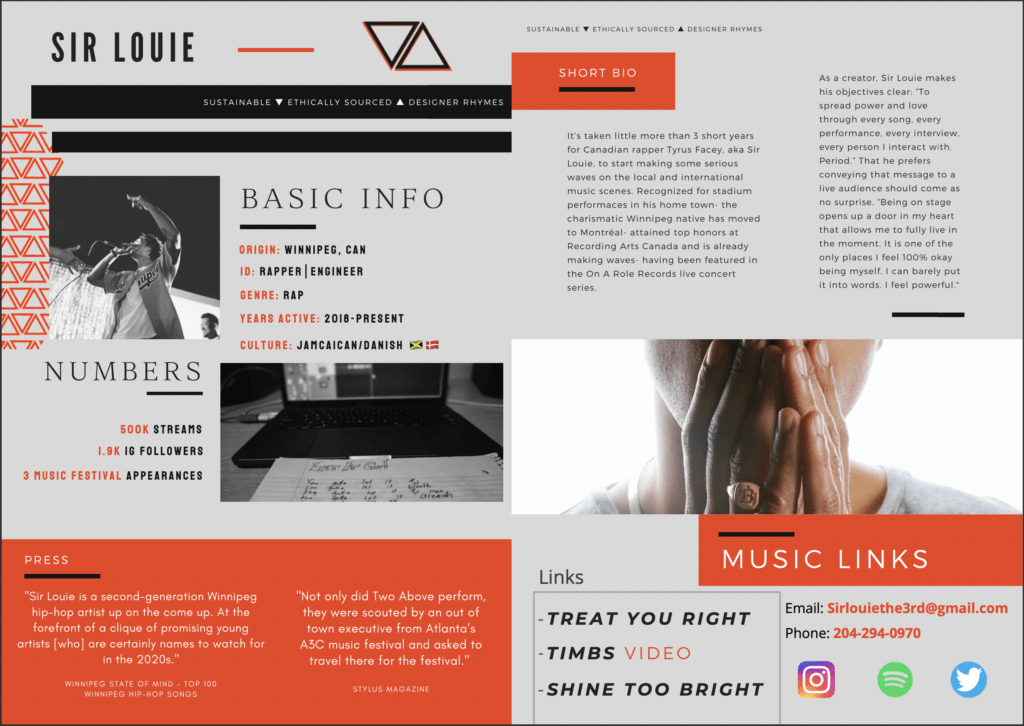 A Succinct Description of Your Music
This is where you let your project really shine. Start by categorizing your work under a musical genre. You can also include a "For the Fans of" section that features two to three artists who are sonically similar to you to help the reader better understand the kind of audience your music is suited for.
Here's an example of how to structure a short artist bio with a brief description of your music:
Example: (Band name) is a (genre) band/project based in (city), fusing (adjective + genre) with (adjective + genre). For fans of (artist), (artist), and (artist), (band name) tackles (topic) with (music adjective).
Discography
You can't assume that everyone is familiar with your work, so be sure to actually include your music for people to listen to. You can do this by embedding an audio player in your website with a tracklist of all your songs, or adding album artwork that links to streaming platforms. It should be easy to find and your upcoming release should be the focus.
This is also a great place to include any music videos you may have, highlighting one or two that best reflect your work. Embedding them directly into your EPK page is ideal.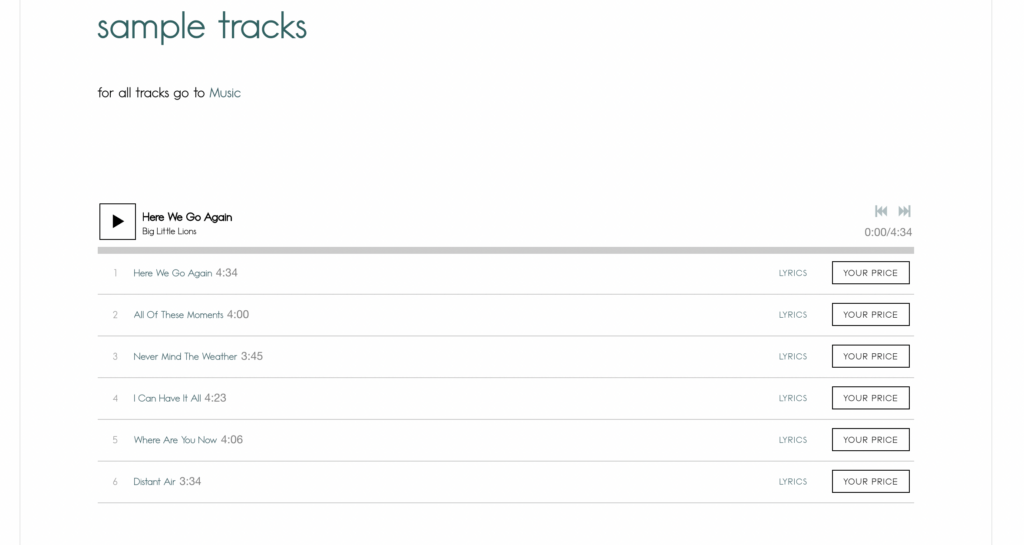 Press Photos
When you're promoting new music, it's important to have a few recent, high-quality pictures available for press to use. These photos should reflect the look and feel of your project, and represent you as an artist. We suggest making them available through links, as opposed to sending large high-res files via email.
Achievements and Reviews
This is your chance to show what you've accomplished so far. This can include any career highlights such as streaming stats, chart placements, radio play, shows, and so on. These can be listed as bullet points. If you've had any previous press coverage, including a few quotes can really add credibility.
If you're just getting started, you can include projects you've worked on, educational history, and other relevant information that demonstrates your experience.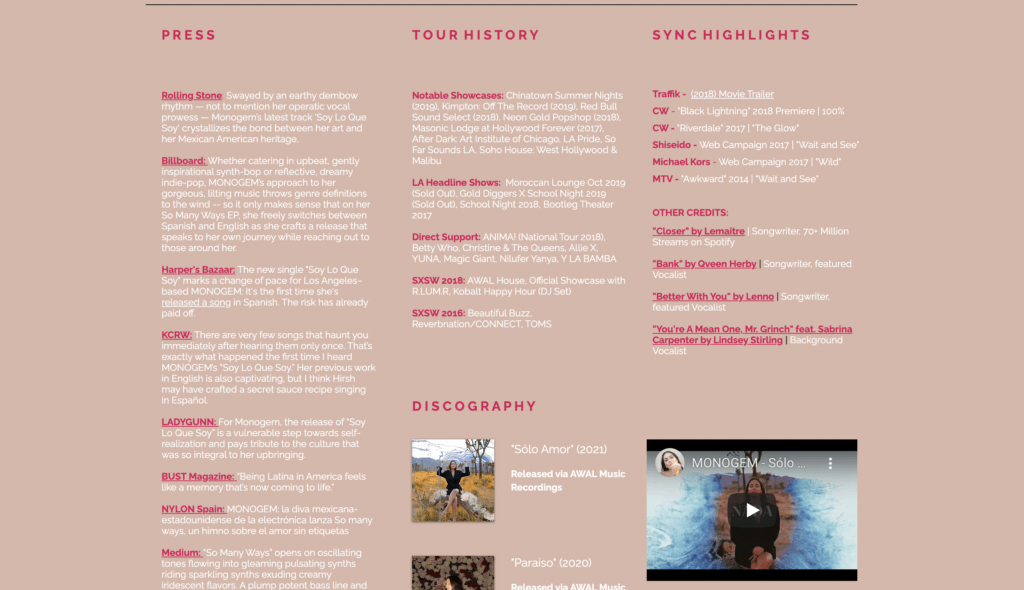 Links to Your Website, Social Media, and Music Platforms
Include links to anything you want your recipient to review and/or include in their promotion of your project. Most EPKs include (but are not limited to) the following:
Your website
Instagram
Facebook
TikTok
Twitter
Spotify
Apple Music
SoundCloud
Bandcamp
Events and Release Dates (If Relevant)
This section is where you would list your shows, both those you've already played as well as upcoming ones. This serves two purposes; the first is to let potential bookers know what dates you're available to perform at their venue, and the second is to highlight your most notable gigs. By including these key dates, you're giving industry insiders a better idea of how far along in your career you are while also clueing them into which circles are already familiar with your work. Plus, it doesn't hurt to have this reference readily available for anyone who might want to promote any of your upcoming shows!
Contact Information
Make it as easy as possible for people to reach you. Note your own email address if you're self-managed, or list your team members' roles and emails clearly.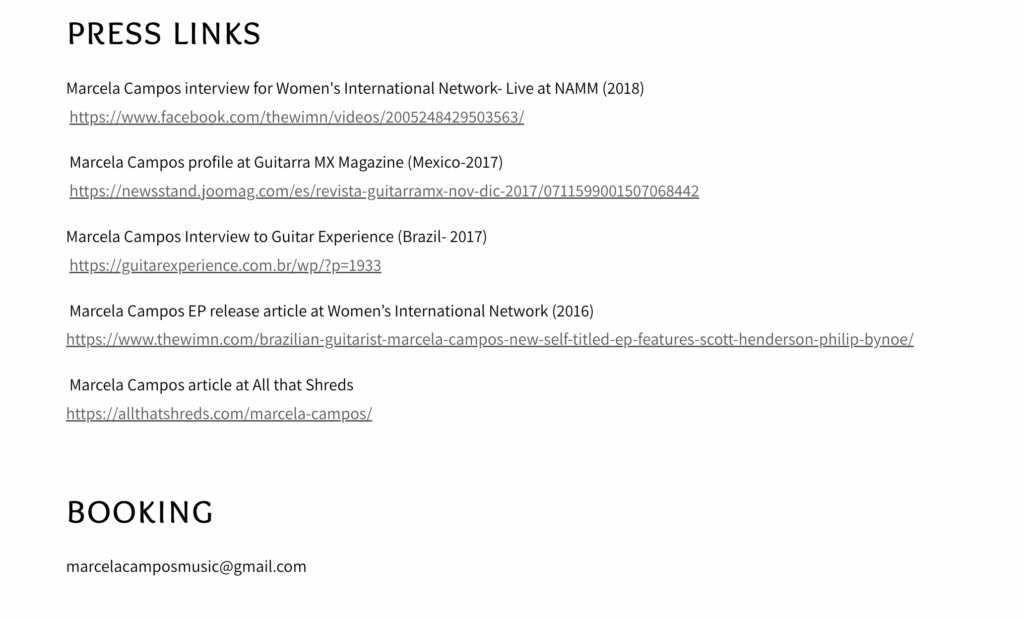 What Not to Include
When creating your EPK, you should avoid the following:
Anything that's too pushy or sounds ego-driven (e.g., "We're Montreal's BEST new __.")
Press photos that are clearly selfies or very low-quality photos. If you don't have any press photos, you can use your album or single artwork instead. However, having at least one picture of yourself is highly recommended, so if you get a friend to take an amazing shot of you on your phone, you can definitely include it in your kit
A poorly-written artist bio – this means a text that is generic and lacks any personality. You should also avoid writing it in the first person and including too many unnecessary details
Any outdated or irrelevant information
Very large files that take long to download
Types of Press
Now that we've established what you need to include in your EPK, we'll take a look at the best approach to creating a relationship with the media.
First, it's important to specify how you would like to collaborate with the person or the platform you're reaching out to. Are you looking for an interview, a review of your work, or would you like your projects to be promoted on social media? Do you want to set up a meeting with an industry professional to potentially work together? Let the recipient of your email know how you'd like to work together, and why you think it would be a good fit.
Example 1 for press outreach:
Hi (name),
I hope you're doing well. My name is (artist name), I'm a (genre) project based out of (city). I really enjoyed your article covering (artist name) a little while back, so I thought you might enjoy my project/sound as well.
I'll be releasing my debut EP (title) on (date), and I wanted to reach out to you to see if you had any interest in covering it. You can listen to (EP title) here. (hyperlink to a private stream of EP) I'm looking for reviews, and I'm open to doing interviews, or any other kind of collaboration you might have in mind as well.
I've attached my EPK below for your consideration, along with links to all my socials. I'm looking forward to hearing your thoughts!
Thanks,
Artist name
Example 2 for press outreach:
Hi (name)
I hope you're doing well. My name is (artist name), I'm a (genre) project based out of (city). I found your work through (name/platform) and wanted to reach out to you about (collaboration type). This (example) aspect of your work really resonated with me, and I think our collaboration would be a good fit (for these reasons).
To tell you a bit more about myself, (artist bio).
If this collaboration/project is of any interest to you, I'd love to set up a chat sometime in the next week or two to discuss it further. Please let me know your availability and when would work best for you.
(Sign off)
Consider This
In general, you should send out your press kit at least three weeks before any release, event, or time-sensitive topic.
Most media outlets plan their content calendars several weeks, if not months, in advance. They will need the time to approve, edit, and schedule each post, so they won't be able to accommodate last-minute requests.
DIY versus PR Agencies
So creating your own EPK seems simple enough, right? If so, you may be wondering why some people opt to hire a PR agency instead of doing it all on their own.
While you may be able to attain a certain amount of press as an independent artist, it's important to consider what kind of press you're hoping to get. If you're just starting out, you may be able to secure local or smaller music-oriented journalistic platforms and outlets on your own, but it's likely going to be more difficult to land major features.
That's where public relations agencies come in. Depending on the agency, they can create press kits for artists, and provide contacts and email outreach that might otherwise be inaccessible or difficult to obtain. They also provide an unspoken "social clout" which demonstrates to media outlets that if this agency believes in your project, then they should too. Working with an agency also relieves you of the tedious work of emailing, following-up, and other back-and-forth correspondences.
It should, however, be noted that PR agencies are often quite pricey and may require you to pay for their services upfront without a guarantee of success, so you need to be mindful of your budget when considering this option.
That being said, you don't necessarily need an agency to be successful. Many website builders (such as Bandzoogle, Wix, etc.) actually have EPK templates available, or there are online platforms like SonicBids that can help you create an EPK if you feel you need the extra support.
By doing your own press, you get control of your press kit, get first-hand experience doing press, gain new contacts within the industry, and are able to see the insights on your press campaign analytics.
—Final notes—
There is no one way to make a press kit, but these tips will help you get a head start on securing media and other professional opportunities. The only question left is, where do you find that press, and how do you reach out?
Keep an eye on our Learn page for more articles that cover topics like the best tactics to employ when establishing a relationship with the press, how to write engaging "cold" emails, and how to produce memorable artist biographies.
Text written by Malaika Astorga & Andria Piperni
Illustration by Yihong Guo